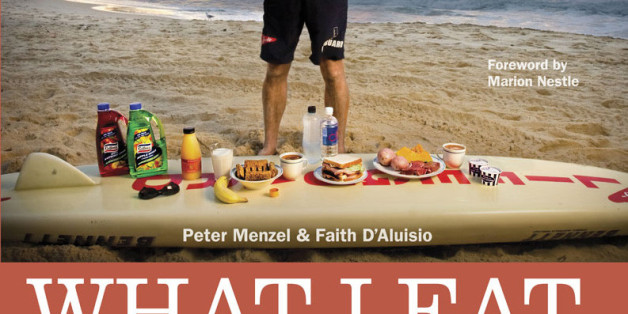 The different kinds of foods people eat around the world are endlessly fascinating. We at HuffPost Taste want to know what other countries eat for breakfast when we're shoveling down a bowl of cereal or enjoying our eggs and bacon. We're curious about the way people eat and which customs are taboo, and what people consider "healthy eating." We want to know what kids are eating for lunch and what governments are feeding their soldiers.
Photojournalist Peter Menzel and writer Faith D'Aluisio have satiated our curiosity in a new way, breaking down what individuals from all over the world eat in one day. In "What I Eat: Around The World In 80 Diets," Menzel and D'Aluisio document a stunning array of individuals' daily sustenance. The subjects of 'What I Eat' run the gamut from a coal miner and a call center operator to a sumo wrestler.
The book is arranged by the number of calories each individual consumes. Context from D'Aluisio accompanies each portrait, and essays from food experts such as Michael Pollan appear throughout the book.
This isn't the first book from husband and wife team Menzel and D'Aluisio. Their James Beard award-winning book "Hungry Planet," came out in 2007 and documented what families from around the world eat over the course of a week.
On choosing to lay out food consumption at the individual level, Menzel told NPR: "I want people to understand their own diets better — and their own chemistry and their own biology. And make better decisions for themselves."
Below are some examples of the 80 portraits found in "What I Eat: Around The World In 80 Diets."
PHOTO GALLERY
What I Eat: Around The World In 80 Diets
Want to read more from HuffPost Taste? Follow us on Twitter, Facebook, Pinterest and Tumblr.
BEFORE YOU GO
PHOTO GALLERY
10 Local Cuisines For A Strong Stomach