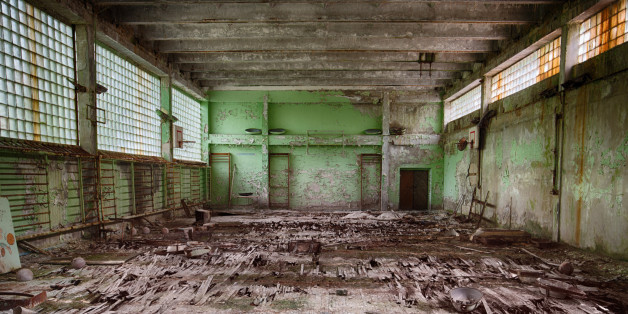 From New York to Namibia, some of the most beautiful places in the world are in its forgotten corners.
1. IM Cooling Tower, Belgium
Once used to cool chemical waste before transmitting it to the atmosphere, the tower has been out of commission since 2006. Industrious photographers and adventurous tourists are taking advantage of the stunning sites.
2. The City of Kolmanskop, Namibia
Located in the Namibian desert, Kolmanskop is a reminder of the diamond-boom that engulfed Namibia in the early 1900s. The city popped up to accommodate the hoards of people dreaming of making it big in the diamond trade.
An empty ghost town, the desert sands and winds started to take back the city: rendering it spooky, decrepit and kind of beautiful.
3. The Floating Forest, Sydney, Australia
What to do with a wrecked coal ship? That was the question Australians didn't want to contend with when they left the decommissioned S.S. Ayrefield floating in Sydney's Homebush Bay. Fortunately nature had its own ideas. The ship has sprouted into a floating mangrove forest, according to design website Inhabitat.
4. Ground Zero, Pripyat, Ukraine.
Pripyat was the city that once housed the employees of The Chernobyl Nuclear Power Plant and their families. Large and fully functional, Pripyat had apartments, schools and even a ferris wheel, according to the The Telegraph.
On April 26, 1986, an explosion rocked Chernobyl and all residents were forced to evacuate. As they loaded buses, they were told that they'd be back home in just a few days time but the leaked radiation ensured that they would never return.
5. Hart Island, New York City.
According to The New York Times, Hart Island's Potters Field still functions as a burial ground for the homeless and unclaimed. The rest of the island has been shuttered up and left to the elements -- including the prison that now stands abandoned and unused.
6. End Of The World Cinema, Egypt
It's believed, that the so-called "end of the world" cinema was built by a wealthy Frenchman who sourced supplies from Cairo for his middle-of-nowhere movie theater. Adding to the spook factor, no movies have ever been played here and the harsh desert conditions only contribute to the apocalyptic look of the eternally empty bucket seats.