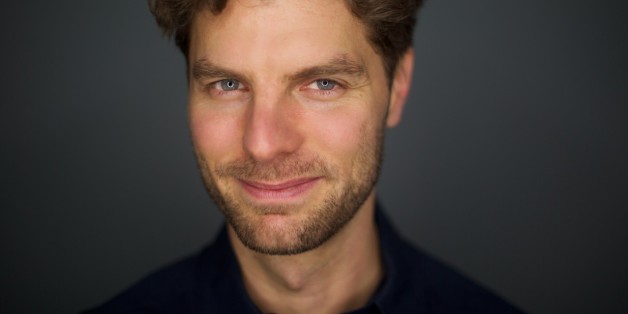 Lance Horne has written with Jake Shears of the Scissor Sisters, served as Liza Minnelli's musical director, arranged for System of a Down's Serj Tankian and played behind Kristin Chenoweth as she sang for Queen Elizabeth II over the course of his varied career.
Despite such contrasts on his résumé, the Emmy Award-winning composer, songwriter and performer shrugs off the suggestion that his music -- which combines elements of rock, jazz, classical and Broadway -- defies classification.
"My life has always been about dual pointing … It's like being on a road trip with my parents as an only child, with my dad wanting to listen to Willie Nelson and me wanting to put in my 'Sweeney Todd' cassette," Horne said. Citing a friend who jokingly referred to him as the music industry's "Forrest Gump," the Wyoming native added, "We've all done it ourselves when we've left our iTunes on random. It's a unique approach to the arts right now."
Alan Cumming performs with Horne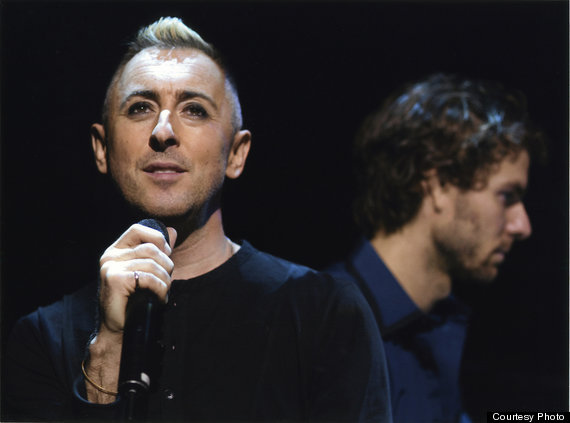 So it's safe to assume that his March 31 performance at New York's Birdland will be anything but a traditional set. Emphasizing original tunes from Horne's 2011 album, "First Things Last," the show will feature appearances by Alan Cumming, Lea DeLaria, Joey Arias and Rachel Dratch (among others) in addition to a sneak peek at "The Night Before My Wedding," the composer's forthcoming "operatic theater" collaboration with author Neil Gaiman.
It's shaping up to be a whirlwind spring for Horne, who'll set out for Los Angeles following his Birdland show for an April 15 gig at The Rockwell, where his planned guests include Ricki Lake. Although he's primarily based in New York, he's been spending ample time on the West Coast working on "Tyler's Suite," a choral song cycle which debuted March 25 in San Francisco and is dedicated to Tyler Clementi, the 18-year-old Rutgers University student who took his own life in 2010.
Cheyenne Jackson, Tracie Thoms and Lance Horne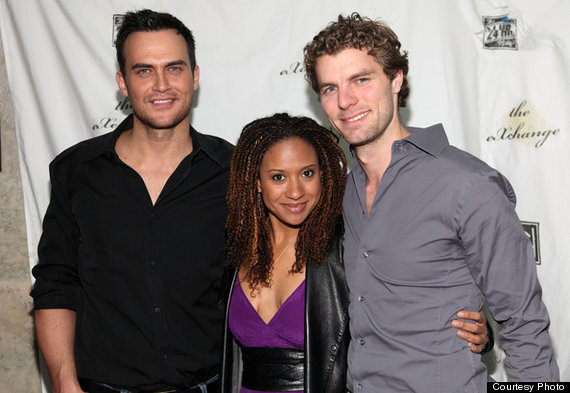 Horne says "Tyler's Suite," which includes contributions from Stephen Schwartz ("Wicked") and other composers, goes beyond the well-known media narrative of Clementi's life to explore "every person's approach to finding community and dealing with life and conflict." The piece is also reflective of what Horne describes as his "social responsibility" to "write from the heart and support organizations that are doing the most change in the world."
Horne, of course, is informed by his own experiences as a gay man, and his work has always featured performers relevant to the lesbian, gay, bisexual and transgender (LGBT) community, like his "musical husband" Cumming and "RuPaul's Drag Race" contestant Courtney Act. Still, it wasn't just his sexuality that made him feel like an outsider during his early years in New York, when he studied at the Juilliard School.
Horne served as Music Director for Liza Minnelli and Alan Cumming in 2013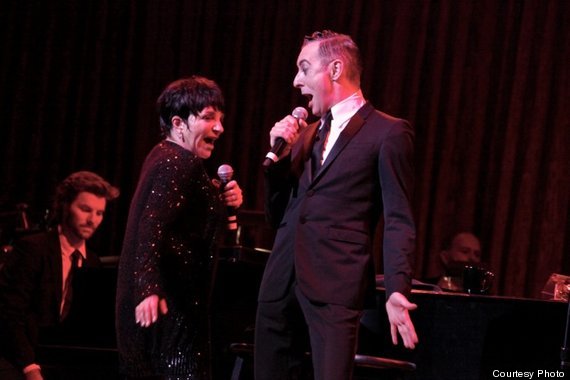 "I was born deaf in my right ear, and everybody told me not to go into music and that I'd never make it. Then a lot of people came down hard on me for doing work that was vocal, gay and theatrical," he recalled. These days, however, it "really tends to be all gay, all the time, and sometimes I feel like I'm in a 'Rocky Horror Picture Show' revival."
True to unpredictable form, Horne says he dreams of one day collaborating with Celine Dion, whose work he secretly loves, as well as nine-time Tony Award winner Tommy Tune. At present, he's also set to accompany Courtney Act during three performances at New York's Laurie Beechman Theatre this month, while a new musical with playwright Craig Lucas is in development.
Though he keeps mum on specifics of his Birdland debut, Horne said his audience can expect a night with "plenty of firsts," promising "something to hum along to, and to bounce along to." If his previous work is any indication, anything's possible.
Lance Horne plays New York's Birdland on March 31. Head here for more information.