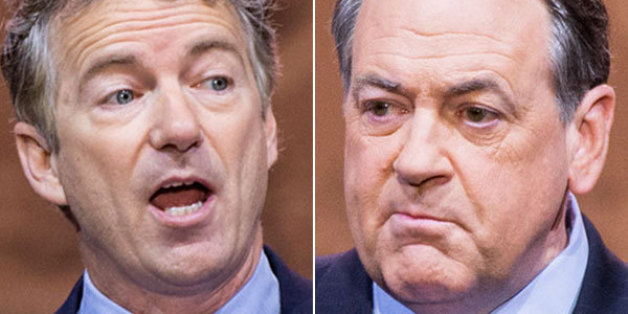 A new 2016 GOP primary poll has Sen. Rand Paul (R-Ky.) and former Arkansas Gov. Mike Huckabee (R) ahead of the early pack of possible contenders.
WPA Opinion Research released its findings Saturday, showing Paul and Huckabee topping the field at 13 percent apiece. Following them was former Florida Gov. Jeb Bush (R) with 11 percent, along with New Jersey Gov. Chris Christie (R) and Sen. Ted Cruz (R-Texas) both at nine percent. The nationwide telephone poll consisted of 801 Republicans and Republican-leaning independents who were surveyed from March 18-20.
In recent weeks, both Paul and Huckabee have hinted at their interest in running. On Thursday, the Washington Post reported that Paul was the first Republican assembling a 50-state support network to lay the foundation for a possible presidential bid. That report arrived about three weeks after Paul captured his second straight CPAC straw poll victory.
The AP reported Wednesday that Huckabee met with dozens of GOP House lawmakers at the Republican National Committee headquarters, while also hosting a fundraiser. Huckabee ran for president in 2008 but passed on a 2012 run.
HuffPost Pollster's latest compilation of 43 publicly available 2016 GOP primary polls showed Christie, Bush, Paul and Huckabee all separated by a narrow 2.5 percentage points.
BEFORE YOU GO
PHOTO GALLERY
100 Years Of Election Night Winners