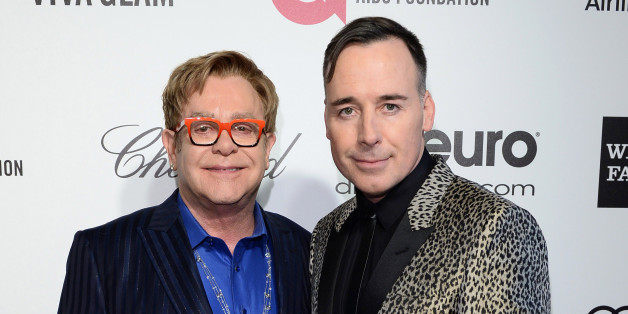 According to the Las Vegas Review Journal, Elton John will marry longtime partner David Furnish in May. The two will wed in England, after more than eight years in a British Civil Partnership.
Furnish told the Las Vegas Review Journal that the decision to have a ceremony follows the long-awaited legalization of same-sex marriage in Britain.
"We don't feel the need to take an extra step legally," he said. "But since we're committed for life, we feel it's really important to take that step, and take advantage of that amazing change in legislation. We all live by example."
The Marriage Act was passed in July, but ceremonies officially began on Saturday, with rainbow flags displayed in anticipation of the country's first same-sex weddings.
Back in October, John told Jimmy Kimmel that he felt it was his "duty" to be among the first gay couples to wed once gay marriage became a reality in England.
Furnish similarly echoed the sentiment of moral obligation in Attitude magazine, writing, "Elton and I will marry – as a high-profile couple, we feel it is our duty to do it, to make sure that everyone knows that this is something that many gay men living in this country never dreamed would happen."
The couple has been together since 1993 and have two children together. Although their celebration of civil partnership was celebrated with a $2 million reception that included 650 guests, the approaching wedding will be a bit smaller. "I think what we'll do is go to a registry office in England in May" Furnish said, "[We'll] take the boys with us, and a couple of witnesses."
BEFORE YOU GO
PHOTO GALLERY
Celebrity News & Photos