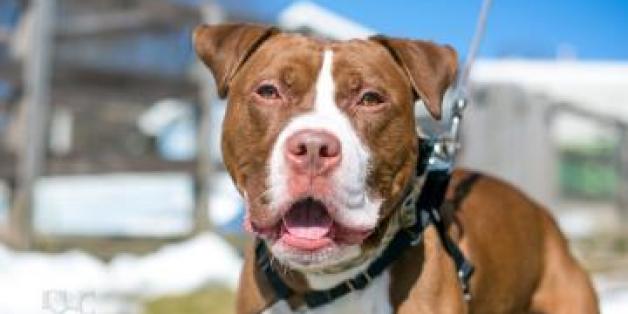 Jazz the pit bull mix doesn't have a long theater resume, at least as far as anyone knows. His life before coming to the Baltimore Humane Society is something of a blank slate.
"We either have owner surrenders or pull from high kill shelters," says Wendy Goldband, spokesperson for the privately-funded shelter, which also runs a pet cemetery and a low-cost veterinary clinic.
Now Jazz's work history includes Shakespearean actor. He'll be playing the role of "dog" in a production of Richard III that is scheduled to run through April.
Since 2012, BHS has been supplying a local theater company -- the Baltimore Shakespeare Factory -- with adoptable dogs who appear onstage. (Sometimes cats and small animals will be worked into productions, as well.)
The collaboration began with productions of Macbeth, which featured a rescue pup named Sophia in the part of "man's best friend," and the Two Gentlemen of Verona, in which a handsome mutt named Benson played "Crab," one of the few actual canines written into a Shakespeare play.
"Very often the dog upstages the actor," says Barbara Mowat, a Shakespeare scholar whose many titles include director of research emerita at D.C.'s Folger Shakespeare Library. "That's why most people go see The Two Gentlemen Of Verona."
Mowat tells HuffPost that Richard III does not usually have a role for a dog to appear onstage -- though the title character does have a famous opening monologue in which he says, self-pityingly, that "dogs bark at me as I halt by them."
It "would be nice if we could get them to bark," says Kelly Dowling, who is the company liaison with BHS and is playing Queen Elizabeth in the new production. Dowling says that the Baltimore Shakespeare Factory now has a policy of including animals in as many shows as possible -- even if they won't have speaking roles -- in part to give exposure to BHS, and in part to make Shakespeare "more accessible."
Jazz's tenure may be cut short if he is adopted by a fan, which it's hoped will happen. (In that case, an understudy, who will be chosen for a sociable manner and calm disposition, will assume the role.) Until then, he'll take center stage, in a couple of scenes, anyway -- and after a few runs, Jazz seems to be turning into a bit of a ham.
He's learned "if he lays down on stage and looks cute, the whole audience goes awwwww," says Dowling. "It's amazing how fast they figure out what will get a reaction from the audience."
H/T Baltimore Fishbowl, Baltimore Sun
Have a good animal story? Get in touch at arin.greenwood@huffingtonpost.com
BEFORE YOU GO
PHOTO GALLERY
Your Pit Bulls