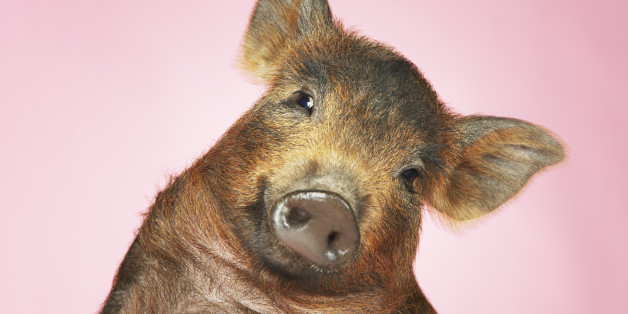 Were those Iowa pigs that Joni Ernst bragged about castrating? The ones she made squeal the way she promises to make Washington's "big spenders" squeal? Or were they really from ... Denmark?
It's the latest chapter of absurdity being written in the Iowa U.S. Senate campaign, after Rep. Bruce Braley (D) managed to insult farmers by comparing them unfavorably to lawyers. Challenges have been made to the credibility of photos posted online by the campaigns of both Braley and Ernst, a Republican state senator.
Braley's Facebook page has apparently removed a photo it posted of a farm that featured lovely agricultural land -- in England. Turns out Ernst has also posted and removed a seemingly innocent photo, this image of a pig:
The problem, according to the site where the photo is for sale, is that it is the Iowa campaign equivalent of turkey bacon. It actually comes not from the corn and pig belt but from a photographer in Denmark. That may account for the pig's disposition -- it looks considerably merrier than one might expect it would if it had recently encountered Ernst and a scalpel.
UPDATE: 6:45 p.m. -- A spokesman for Ernst had no comment on the nationality of the pig, but offered up a statement from the animal itself that suggested it was at least as smart as Charlotte's Wilbur, or perhaps Snowball:
Yes, it is true. I was born and raised in Holland but eventually legally emigrated to Iowa. While I may be disappointed that my own congressman, Bruce Braley, can't spell 'bale' I want you to be confident that I can. And since I have been dragged into the U.S. Senate race now, I want you to know that I agree with the Tonight's Show's Jimmy Fallon by saying 'just give Joni Ernst the job.' I would rather see Joni make 'em squeal in D.C.
(Editor's note: Smart, but not with geography. Holland is not in Denmark. It is in the Netherlands.)
BEFORE YOU GO
PHOTO GALLERY
Obama With Celebrities