At a refugee camp in the Democratic Republic of Congo last October, a women sunk to her knees in front of the visiting U.S. Ambassador to the U.N. "Every time we move out of this place, we are raped by various bandits," she told Samantha Power, urging her for help.
At the scene was investigative journalist James Verini, who examines Congo's harrowing violence and the UN's faltering attempts to protect civilians there in a special report for National Geographic.
War, sexual violence, displacement and hunger stalk Congo's devastated population of over 77 million.
Verini writes in National Geographic:
Congo has been at war or something like it for a generation. It's estimated that since 1997, when Mobutu left power, between four and six million Congolese have died in fighting or as a result of the upheaval of fighting, through disease, hunger, and other causes. If accurate, those numbers make its conflict the deadliest since World War II. The worst violence has afflicted the east, and in particular, recently, North Kivu and its sister province, South Kivu, where spillover from the civil war and genocide in Rwanda, rivalries over land and resources, ethnic clashes, and the neglect of President Joseph Kabila (the son of Laurent-Désiré Kabila, the rebel leader who ousted Mobutu), have combined to leave an area the size of Afghanistan bloodied, lawless, and undeveloped.

But while the word "war," like "conflict," can apply to Congo, it doesn't explain much. Nor do the humanitarian terms "complex emergency" or "destructured conflict," which are used to describe the country. Nor do any terms, really; speaking with Congolese, you hear of violence, hunger, and poverty, mingled into sentences with corruption, incompetence, and foreign meddling, as though cause and effect have merged—as though it all emerged from the same lava lake of social collapse. The only metaphors that stick involve disease. In Mobutu's day, Congo's genius for immiserating itself was known as "the Zairean sickness." The historian Gérard Prunier called the country, with its landmass roughly equivalent to western Europe, a "huge sick blob." You hear about the "open wound at the heart of Africa."
The utter collapse of Congo has challenged the United Nations to rethink its role in the country and forced the organization to ask itself one key question: Should the international organization to spread peace by using violence?
Read Verini's full account of the violence in Congo and the UN's shifting approach on the National Geographic website. Take a look at a selection of images from the report below.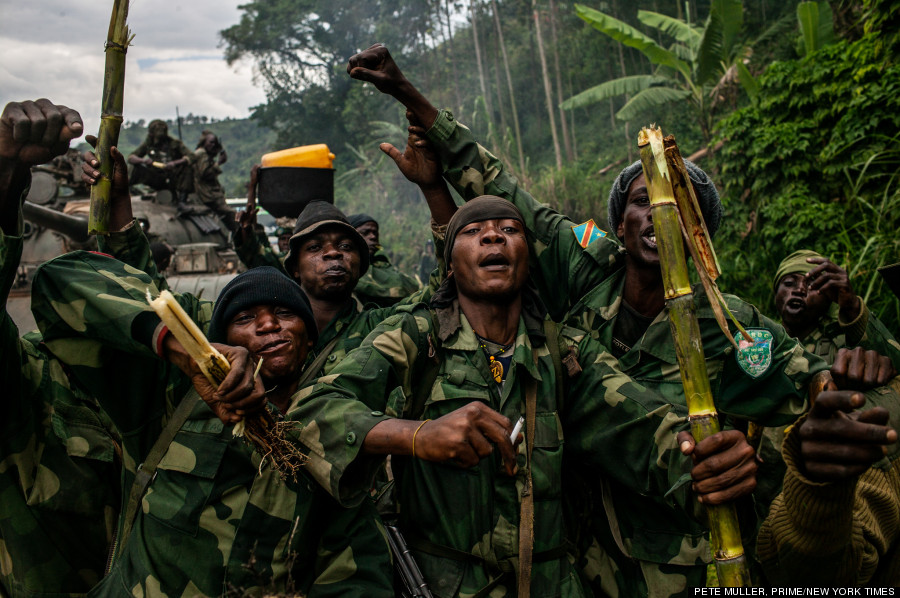 Congolese commandos celebrate as they advance up a mountainous road toward Bunagana, the last remaining stronghold of M23 rebels, in October 2013. (PETE MULLER, PRIME/NEW YORK TIMES)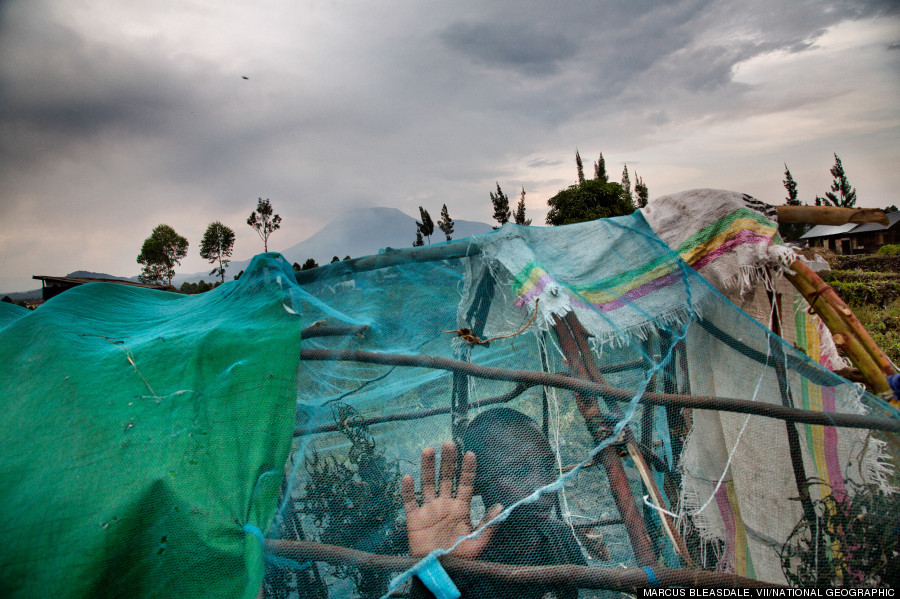 With Nyiragongo volcano looming in the background, a refugee takes cover in a makeshift shelter at a camp near the city of Goma. (MARCUS BLEASDALE, VII/NATIONAL GEOGRAPHIC)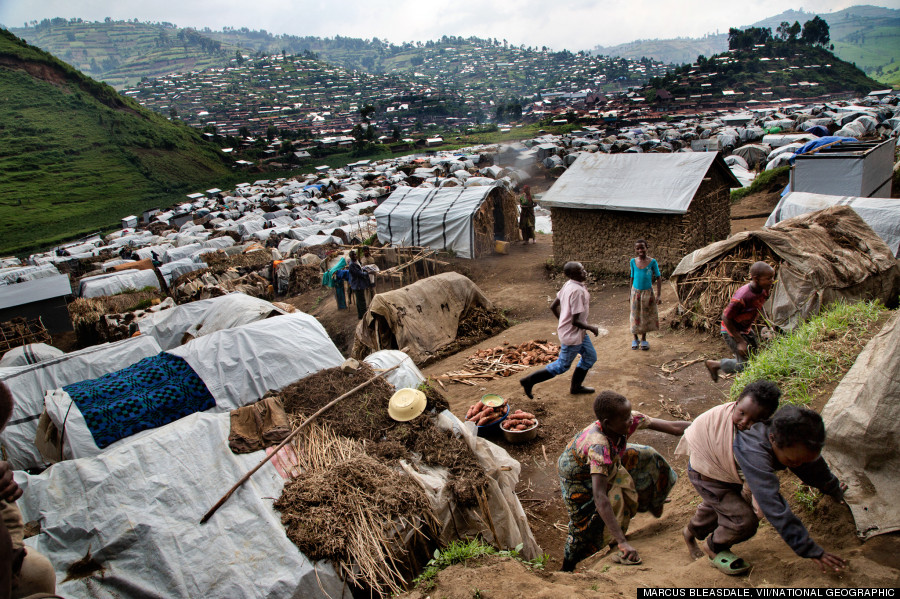 Children scramble up a hillside at a refugee camp where locals fled as a result of the fighting between M23 and the Congolese army. (MARCUS BLEASDALE, VII/NATIONAL GEOGRAPHIC)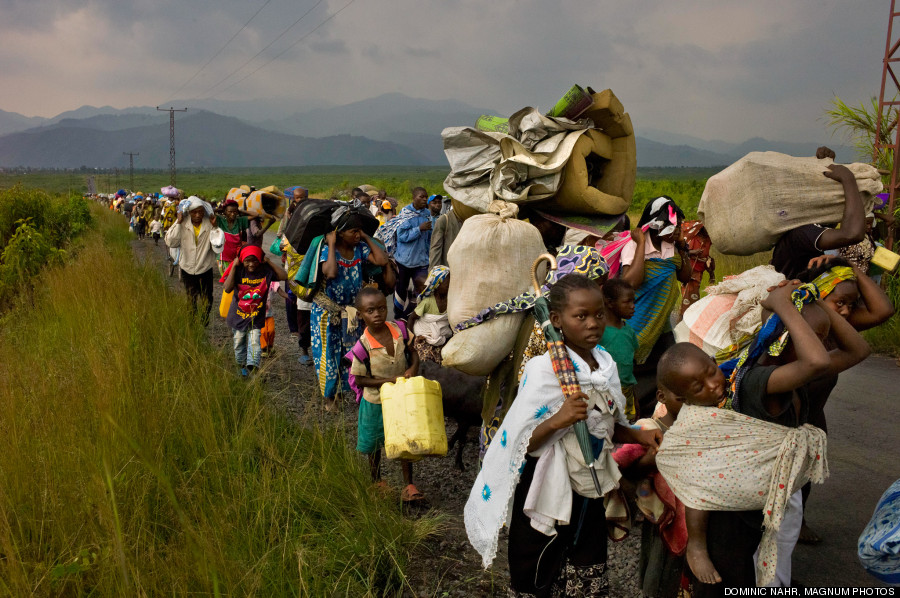 Some of the tens of thousands of Congolese displaced from the area around Sake by clashes between M23 and Congolese soldiers in 2012 flee on the road linking Bukavu and Goma. (DOMINIC NAHR, MAGNUM PHOTOS)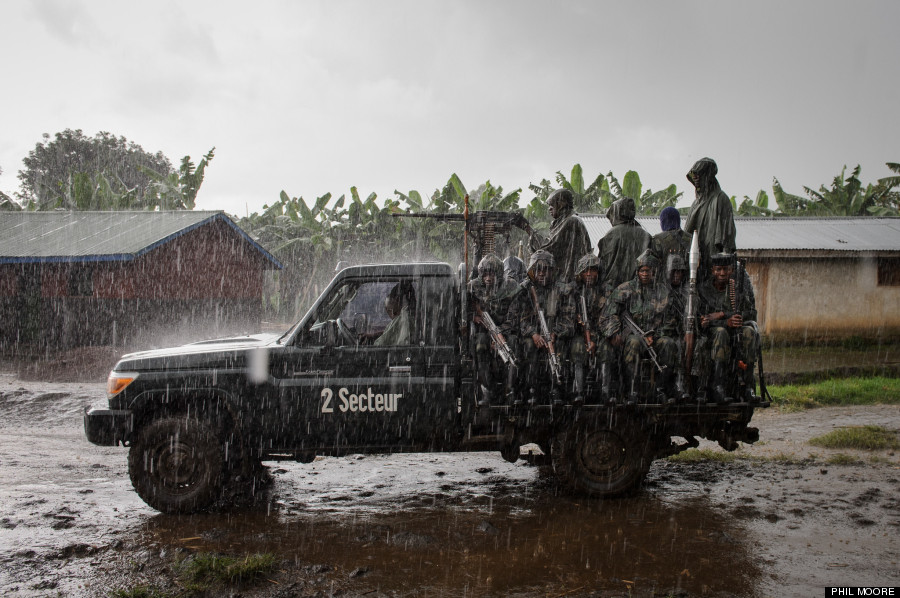 Congolese troops are transported through the village of Jomba in 2012 during operations against M23 rebels in North Kivu Province. (PHIL MOORE)