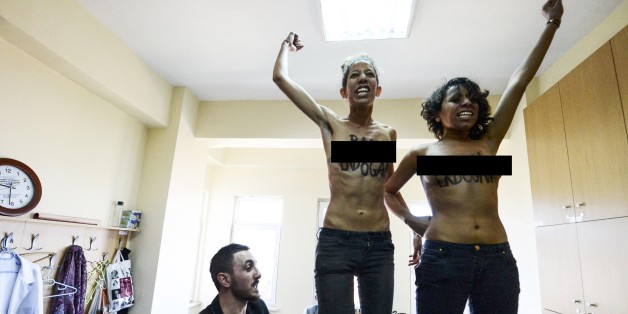 Topless female activists were arrested after showing their disdain for Turkish Prime Minister Erdogan during Sunday's highly contested municipal elections.
In protest of the Erdogan government's recent crackdown on social media, two members of the activist group Femen swarmed a polling booth in Istanbul, where the prime minister was scheduled to vote. The women were arrested after baring their breasts with the words "Ban Erdogan" at the polling booth, Agence France-Presse reports.
Twitter and YouTube were blocked in Turkey earlier this month after Erdogan vowed to eradicate the social media platform. "I don't care what the international community says. Everyone will witness the power of the Turkish Republic," Erdogan told supporters during an election rally on March 21," according to The Washington Post.
Similarly, on March 27, YouTube was banned after leaked recordings of top government officials discussing the possibility of going to war with Syria made it online, according to CNN.
As election results rolled in Monday morning, Erdogan's party was slated for a victory. With 80 percent of ballots counted, exit polls showed the Freedom and Justice party leading with 48 percent of the vote, and the main opposition, the Republican People's Party, at 28 percent, according to The Wall Street Journal.
BEFORE YOU GO
PHOTO GALLERY
FEMEN Protest In Spain (WARNING: NSFW)