Got a success story of your own? Send it to us at success.stories@huffingtonpost.com and you could be featured in our I Lost Weight series!The Huffington Post publishes photographs as they are submitted to us by our readers.
Name: Jayme Hunsinger
Age: 30
Height: 5'9"
Before Weight: 304 pounds
How I Gained It: I was always a heavier kid growing up, but it really never became a problem until I hit the late high school and early college years. I turned to food as comfort. I would hide food in my underwear draw and indulge late at night. I went through a bad breakup, which is when I really started putting on the weight. Food comforted me in every way. I enjoyed carb-loaded foods such as pizza, bread, fried foods, candies, chocolate and baked goods.
I got a job where I worked 3:30 p.m. to 11:30 p.m. and afterwards I de-stressed with my co-workers at the local pizza place with beer and pizza. I had ballooned up to 300 pounds. I had done several weight loss programs but was never successful. The weight always came back.
Breaking Point: I was asked to be a maid of honor for a wedding. While honored about being able to play a huge role in this special day, I remember looking in the mirror and thinking to myself how disgusting I looked and how much I had let myself go.
How I Lost It: I was introduced to Weight Watchers from one of my family members, and when I started this program, it seemed so much different than the other ones I had tried. By the time my step-sister was married, I was able to lose about 80 pounds. However, that wasn't my goal. My goal was to lose 150.
Throughout this journey, I have discovered a whole new world of foods and a whole new way of living. When I started running, I didn't like it. I was always a kid who would rather come home after school and watch TV and have some snacks than be active. But I was motivated by a friend of mine to start running but do it slowly. I tried and took my time. I struggled with the aches and pains and how hard it was on my body. However, eventually I grew to enjoy it and love it. Now, it is my number one stress reliever and outlet.
In May 2013, I stepped on the scale and it indicated that I had lost those 150 pounds. That feeling of accomplishment is one that words are unable to describe for me. I started out at a size 24 and now am a size 6. Shopping is fun now -- maybe a little too much fun!
Running was the key to helping me lose those last stubborn pounds, and I started training for 5Ks. I completed my first 5K on October 5, 2013 in 28 minutes! I plan to complete more 5Ks in the next couple of months with the goal of improving my time, and I have registered for my first 10K. I have also became vegetarian and continue to embrace this newfound me in every which way I can!
My husband has also been motivated by my journey and is currently down 95 pounds, with a goal to lose an additional 20. I am so proud of us, not only because of the loss but because of the wonderful examples we are setting for our daughter. She now will choose fruits and veggies over junk more than before, which is a wonderful feeling! Having great support has been such a great tool. I tell myself, "I'm worth it!"
After Weight: 148 pounds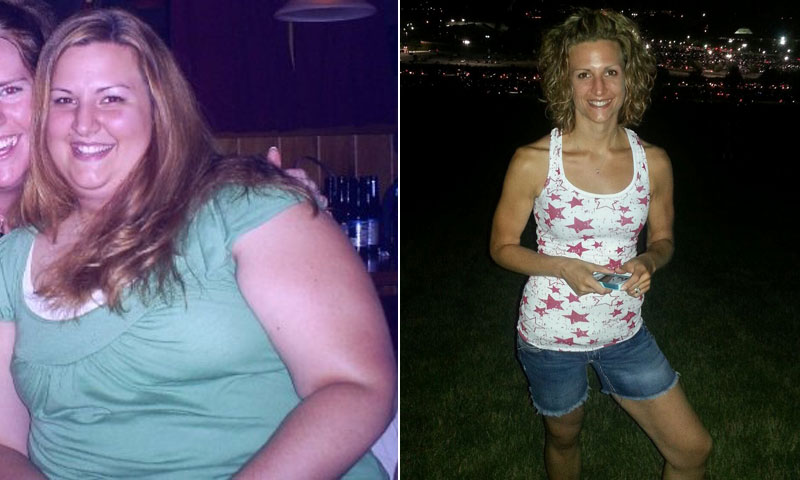 The Huffington Post publishes photographs as they are submitted to us by our readers.
Check out more of our inspiring weight loss stories below:
PHOTO GALLERY
Weight Loss Success Stories