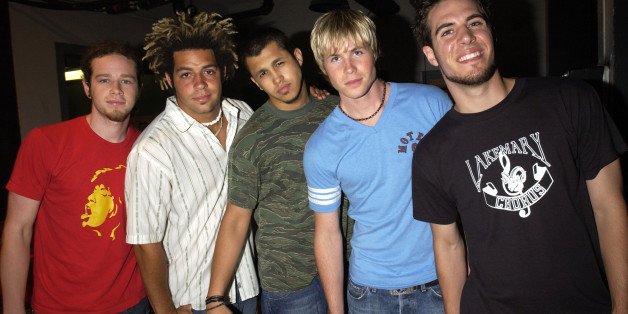 Early 2000s boy band O-Town is staging a big reunion, but for the former group members, it's far from all or nothing at all. The "Making the Band" musicians are reforming without frontman and resident heartthrob Ashley Parker Angel, who struck out on his own in 2006 to pursue a solo career and film a reality television show with MTV. We can only hope the reunited members, Erik-Michael Estrada, Dan Miller, Trevor Penick, and Jacob Underwood, will drop an "All or Nothing" remix to the tune of "Four out of Five or Nothing."
"We've kind of started and stopped along this reunion journey once or twice, and for various reasons it's fallen through," the band said in a new promotional video. "It's kind of now or never."
After more than a decade off from recording music together, the pop stars are getting back together this year to release new music and hit the road for a tour. O-Town's relaunched official website declares simply, "O-Town is back!"
O-Town, which is calling itself "essentially a brand new group," released its last studio album, "O2," in 2002, following the debut album, 2001's "O-Town," which produced the hits "Liquid Dreams" and "All or Nothing." The members of the band officially broke up in 2004 "to escape an unfair record contract and to pursue individual endeavors."
Keep an eye out for more information about the band's reunion in the coming weeks and check out O-Town's video announcement below.
BEFORE YOU GO
PHOTO GALLERY
Reunions We're Waiting For