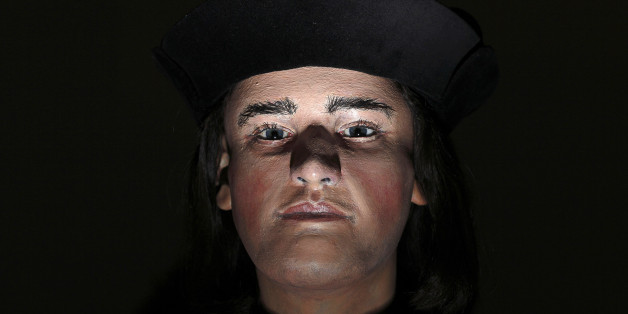 Talk about a drama king.
In 2012, archaeologists unearthed from a parking lot in Leicester, England a skeleton suspected of being that of Richard III, who was King of England from 1483 until is death in 1485. The bones have been surrounded by controversy ever since, from feuds over where and how they should be reburied to whether their DNA should be sequenced.
Now experts are raising fresh doubts over whether the remains truly belong to Richard, even though a team of scientists announced in 2013 that their tests had confirmed the skeleton's identity "beyond reasonable doubt."
"I'm not saying that it's not Richard -– it's perfectly conceivable that it is -– but we are not in a position to say with any confidence that it's him," Professor Michael Hicks, the head of history at the University of Winchester with expertise in late medieval England, told BBC History Magazine. "Indeed, it is very hard to prove that the skeleton belongs to a specific person."
Why is that? According to Hicks, the evidence from radiocarbon dating and the testing of mitochondrial DNA, which makes up only a small part of the genome, cannot provide definitive proof.
"There are quite a number of people who could share the same radio carbon date of death (say 6 million), parts of the same DNA today (say 3 million), the same mitochondrial DNA (a few 10s of 1000s)," Hicks told The Huffington Post in an email. He said the bones may have belonged to one of several cousins who fought during the Hundred Years War or Wars of the Roses, during which King Richard III died in the Battle of Bosworth.
Asked what would convince him the skeleton truly is that of Richard III, Hicks added, "You would need to compare the DNA with Richard's brother King Edward IV at Windsor. At present there is no chance of that."
Professor Biddle, emeritus fellow of medieval archaeology at the University of Oxford, flagged another issue. While the location of the grave in which the skeleton was found matches the record from medieval historian and Richard III's contemporary John Rous, researchers still have much to learn about the burial site.
"How many burials were made there in the three centuries of the friary's existence, and indeed after the battle of Bosworth?" he said in an interview with the BBC. "Without further excavation there is no way of knowing, and hence no certainty about the burial that it has been claimed was that of Richard III."
Biddle suggested that a "coroner's court" be set up to weigh all the evidence.
Despite the pushback from the historians, the University of Leicester researchers are holding their ground.
"The strength of the identification is that different kinds of evidence all point to the same result," a spokesperson of the university said in a written statement. "Professor Hicks is entitled to his views but we would challenge and counter them. Our forthcoming papers will demonstrate that many of his assumptions are incorrect."
BEFORE YOU GO