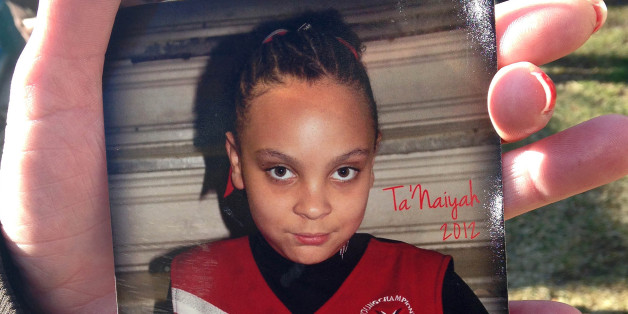 A 10-year-old Pennsylvania girl died early Monday after an intruder fired shots through an apartment door.
Police said at least one intruder forced his way into an apartment building in Washington County, about 20 miles southwest of Pittsburgh, at around 3:50 a.m. Monday.
An intruder shot the front door open, then went upstairs and fired shots into the door of the apartment where Taniyah Thomas, 10, was staying with her mother, her mother's boyfriend, and their infant child, according to WPXI.
Washington city police Lieutenant Detective Dan Stanek told the Pittsburgh Post-Gazette that investigators believe the residents were targeted in the shooting, and that the shooter "either couldn't get in or just decided to start firing rounds through the door."
"You don't shoot kids. I can see you killing a grown-up or doing something that did something to you. You don't mess with young kids. Why? They never did anything you," the girl's grandfather, Sherman Brown, told WPXI.
Police said that Taniyah heard the commotion and ran to her mother's room in fear. A bullet struck her in the head as she ran through the hallway.
"If she had stayed in her bed, she'd have been safe," Stanek said.
A suspect has not yet been named. Police said its unclear if more than one suspect is involved.
Taniyah was a fourth-grader at Washington Park School. The school district issued a statement via its website Monday:
Our heartfelt prayers and sympathy are extended to this child's family. All of us are grieving the loss of this beautiful child. She is a member of our Prexie family and her loss will be felt for years to come. Losing a child is the greatest tragedy, but to lose a child to a senseless act of violence is incomprehensible.
Police are asking anyone with information to call 724-223-1386.
BEFORE YOU GO
PHOTO GALLERY
10 Major Crimes That Shocked America (SLIDESHOW)