Bill Iovanne, Jr., isn't worried about Connecticut's new minimum wage hike hurting his bottom line.
"Our full-time employees are all on salary, and our part-time employees already make $20 an hour," said Iovanne, 55, who is the president of Iovanne Funeral Home in New Haven, Conn., which his grandfather founded in 1928. "This is something we are just going to absorb."
Iovanne was referring to a law passed in Connecticut last Thursday raising the state's minimum wage from $8.70 to $10.10 an hour, making it the highest of any state in the nation. The news is significant because $10.10 is also the same rate that President Barack Obama wants for the federal minimum wage -- which means many on Capitol Hill will be watching to see how Connecticut's economy performs under the new law, as Obama seeks to convince a polarized Congress to approve the wage hike during a midterm election year.
Odds are, the president will have a tough time doing so. Many Republicans have been outspoken in their opposition to such an increase, saying it would make it harder for businesses to afford the cost of employment. Lawrence Cafero, Jr., Connecticut's House minority leader, recently called the wage hike a "punch in the gut" to small businesses, according to the Associated Press.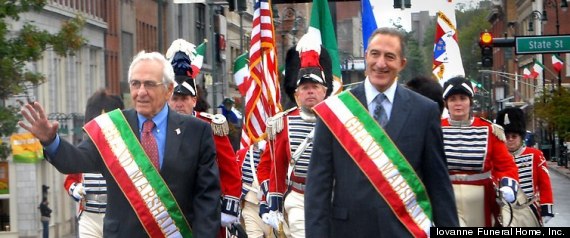 Bill Iovanne, Jr., the president of Iovanne Funeral Home in New Haven, Conn., walks in the Columbus Day Parade in 2012 with his father, Bill Iovanne, Sr., who is the business's president emeritus. Iovanne, Jr., called Connecticut's minimum wage increase "long overdue."
Yet in speaking to half a dozen small business owners throughout Connecticut recently, The Huffington Post found most of them weren't particularly concerned about the state's mandatory minimum wage raise.
Twenty miles north of New Haven, in the town of Southington, the owner of one of the area's last independent pharmacies said his business likely wouldn't be affected. "We only have about a half dozen employees, and I don't think any of them make under $10.10," the owner, Ron Serafino, told HuffPost on the phone. "So I don't think it will impact me that much."
When asked if their costs might increase after the minimum wage was raised, both Iovanne and Serafino said they didn't expect that to happen.
Down in Fairfield County, the owner of one pizza place said slices might get pricier, but that raising the minimum wage could still be a good thing overall. "The days of the $2.79 slice are gonna be over," said Joe Rocco, 46, a co-owner of Planet Pizza, a chain of pizza restaurants in Connecticut and New York.
"But if people have more disposable income, they're gonna go out and order more food, go to movies, go to the mall, they're gonna shop on Amazon," said Rocco from one of Planet Pizza's 11 locations, in Stamford. "I imagine it would help everyone."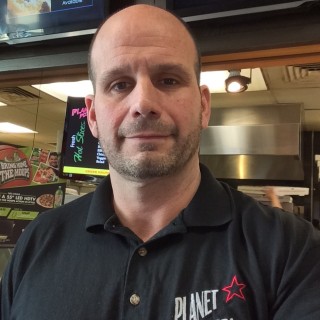 Joe Rocco has co-owned the Planet Pizza chain with his two brothers for 22 years.
Research suggests that raising the minimum wage would, in fact, increase aggregate household spending. What's more, a recent report from the Congressional Budget Office found that raising the minimum wage to $10.10 an hour would boost the earnings of over 16 million people and lift about 900,000 people out of poverty.
While the report also found that the wage hike would lead to a loss of about half a million jobs, other studies have challenged the idea that raising the minimum wage would have such an effect.
At least one low-level worker in Connecticut was happy about the news. But he said $10.10 still wasn't enough.
"$10.10, yes, it does help a lot. But we're shooting for $15.00," said Derrick Foss, 20, a cashier at a Burger King in Hartford's south end. "That would help us actually pay our food, cable, light and phone bills." (Foss is a volunteer with Fight For 15, a campaign organized by a Chicago-based fast-food workers union.)
"Right now I make $8.70 an hour," said Foss, who lives in Hartford with his wife Krystal, a manager at another Hartford-area Burger King, and Krystal's 8-year-old son. "And it's hard to keep a stable life on just $8.70."