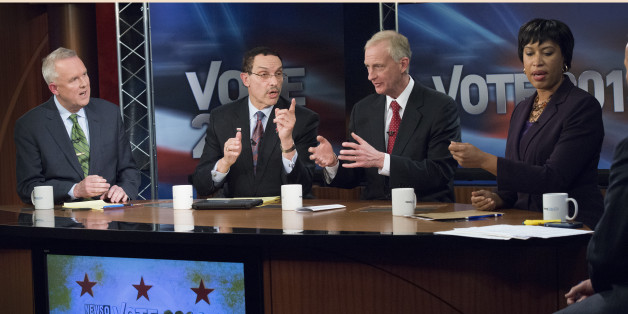 Shockingly, partisanship drives attitudes on Obamacare more than any other factor. We offer tomorrow's explanations today for why polls did (or did not) forecast outcome of D.C.'s mayoral race. And no, that's not an April Fools' joke. This is HuffPollster for Tuesday, April 1, 2014.
PRE-'SPLAINING THE DC MAYORAL OUTCOME - Last week, HuffPollster reported on three new polls on the Democratic primary for Mayor in Washington DC, all showing a within-the-margin of error contest between incumbent Mayor Vincent Gray and D.C. Council member Muriel Bowser (though two of the three gave a slight edge to Bowser. The HuffPost Pollster chart, largely reflecting the final two polls, gives a slight (29.0 to 26.5 percent) edge to Bowser over Gray, followed by council members Tommy Wells (12.5 percent) and Jack Evans (7.5 percent). Three other candidates received low single digits. Given that the two final polls represent a snapshot taken with roughly 10 days remaining in the race, however, the potential is great for the result to differ significantly from that final "forecast." HuffPollster decided to offer an explanation for what happened...in advance:
If Bowser wins easily, it will be because...
1) Most Democrats wanted to vote against Gray. Just 31 percent of likely Democratic primary voters surveyed by NBC4/WAMU/Marist in late February said they thought Gray "deserved to be reelected," while 64 percent said it was "time to elect someone else." And that was before businessman Jeffrey E. Thompson alleged in a plea agreement with federal prosecutors that Gray had knowledge of an illegal shadow campaign waged on his behalf in 2010. [Marist]
2) Bowser made significant late gains while the other challengers continued to trail far behind. She gained 18 percentage points (from 12 to 30 percent) since January on the Washington Post's polls, and 8 points (from 20 to 28 percent) since late February on Marist's polls. [WashPost, Marist]
3) Many Democrats were still unsure about their choice with a week to go. In the Washington Post poll, nearly half of Democratic primary voters with a choice on the final poll (48 percent) said there was a chance they could change their mind (25 percent called it a "good chance"), and another 7 percent were completely undecided.
4) Bowser was the second choice of far more voters than Gray. According to Washington Post Polling Director Scott Clement, Bowser was the second choice of 35 percent of voters supporting candidates Wells and Evans, compared to just 11 percent who named Gray. The Marist Poll did not break out second choice for the minor candidates, but overall Bowser was the second choice of 22 percent, Gray of just 8 percent. [@SFCpoll]
With many news media accounts reporting, on the basis of these poll numbers, that election had transformed into two-person contest, the potential for late shifts to Bowser over the final week was considerable.
If the race remains close or Gray wins, it will be because...
1) Bowser's support on the final polls was soft- Only 44 percent of Bowser's supporters on the Post poll said they were certain they would support her, compared to two thirds for Gray. The Marist poll found a similar contrast of strong support, with 63 percent of Gray voters saying they would strongly support him, compared to 47 percent for Bowser. This sort of softness is typical for a candidate who has just risen sharply in the polls, but it made Bowser more vulnerable to late attacks. Bowser's late missteps raised doubts with political reporters; they were enough to earn her a "falling" rating on the final "power ranking" by the Washington City Paper. [WashPost, WCP]
2) Turnout was lower than usual... - Despite predictions of an increase in early voting, the Washington Post reported Monday that early voting had fallen in 2014 to roughly two thirds of the totals counted four years earlier. Anecdotal reports from polling places early Tuesday described turnout as "shockingly low." [WashPost, @mikedebonis]
3) ...which worked to Gray's advantage? - Two subgroup results from the final polls suggest that a very low turnout might benefit Gray. In the Marist Poll, Gray had a small but insignificant edge over Bowser (32 to 27 percent) among likely voters who said they were very enthusiastic about voting, while Bowser led among those who said they were only somewhat (29 to 25 percent) or not enthusiastic (28 to 16 percent) about voting. And also potentially indicative: The Washington City Paper/WAMU/PPP poll found Gray running much stronger against Bowser among the slightly better than half of likely voters who said they attended neighborhood meetings over the past year (32 to 23 percent), while Bowser had a big advantage (32 to 19 percent) among those who said they had not. [Marist, WCP]
With this newsletter being published two hours before the polls close, HuffPollster would bet on the former scenario (Bowser wins), but wouldn't be surprised by the latter.
POLITICS DRIVES OPINION OF HEALTH CARE LAW - Andrew Dugan and Frank Newport: "With Monday's deadline for enrolling in an insurance plan past, no other factor -- including race, income, personal ideology, gender, or education -- is as relevant to Americans' opinions on the Affordable Care Act as their party affiliation. This remains the foremost predictor of whether an individual will disapprove of the ACA….Republicans are as much as 17 times more likely to disapprove than Democrats. While party identification highly predicts support, other factors also play a role, including race and ideology, though not to the same degree. Characteristics such as income and employment status, which one might think are important when it comes to support for legislation aiming to help the uninsured get insurance, are not significant predictors." [Gallup]
POLLS SHOW AMERICANS ARE CONFLICTED ON UKRAINE - HuffPollster: " The conflict between Russia and Ukraine over Crimea is nothing if not complex, so perhaps it's no surprise that U.S. public opinion is complicated as well. It's not that the polls themselves are inconsistent: A sampling of recent surveys finds relatively similar responses to some of the most common questions. Those results, however, paint a contradictory picture. Americans deeply mistrust Russia and its president, Vladimir Putin, but reject the notion that the U.S. has a responsibility to defend Ukraine. They simultaneously back economic sanctions and doubt they'll work. They support a tougher stance against Russia, but are firmly opposed to military action. And their opinions on President Barack Obama's handling of the conflict seemingly have less to do with their views of the conflict than their views of the president….One reason that many Americans are conflicted, or falling back on partisan cues to decide how they feel, may be that few have given extensive thought to Ukraine or Crimea….People, it turns out, are willing to answer pollsters' questions even when they know they don't have all the answers." [HuffPost]
Americans support a disengaged policy toward foreign affairs - Andrew Kohut: "[I]n record numbers, Pew Research Center surveys find Americans saying the U.S. should mind its own business and let other countries get along as best they can. Over the past decade, disillusionment with U.S. invasions of Iraq and Afghanistan have been coincident with the growing number of Americans who are reluctant to see the U.S. take an active role in solving international problems….An important thing to recognize, however, is that the public's current mood of disengagement is consistent with how it sees the U.S.'s global leadership role. For the past 20 years, Americans have favored a modest international leadership role." [Pew Research]
HUFFPOLLSTER VIA EMAIL! - You can receive this daily update every weekday via email! Just click here, enter your email address, and and click "sign up." That's all there is to it (and you can unsubscribe anytime).
TUESDAY'S 'OUTLIERS' - Links to the best of news at the intersection of polling, politics and political data:
-Chicago Mayor Rahm Emanuel would trail's potential 2015 challenger by 8 points. [Illinois Observer]
-Iraq and Afghanistan veterans are more likely than other Americans to say the wars were worth the cost. [WashPost]
-John Harwood reports on Democrats scrambling to stave off a midterm "disaster." [NYTimes]
-Charlie Cook predicts future years of political gridlock. [Charlie Cook]
-Ben Highton looks at eight senate seats that could flip to the GOP [Monkey Cage]
-Nate Silver concludes that gaffes rarely matter, unless they motivate a political base. [538]
-Harry Enten is skeptical of the new ABC/Post poll showing record high approval of the ACA. [538]
-Jonathan Bernstein wishes polling would measure the disconnect between perceptions of "Obamacare" and successful state exchanges like Kynect. [Bloomberg]
-Obamacare data guru Charles Caba tells his story. [MLive]
-Citizens in France and Germany are less likely than other EU residents to support sanctions against Russia. [YouGov]
-Aaron Strauss (D) named new Executive Director of the Analyst Group. [Cook Political]
-We tend to vote at the same time of day each election. [@KWCollins]
-Jeff Ferzoco and friends animate a map featuring 24 hours of New York City bike share usage. [Flowing Data]
-The one and only April Fools' link in today's HuffPollster. You're welcome. [Greenbookblog]