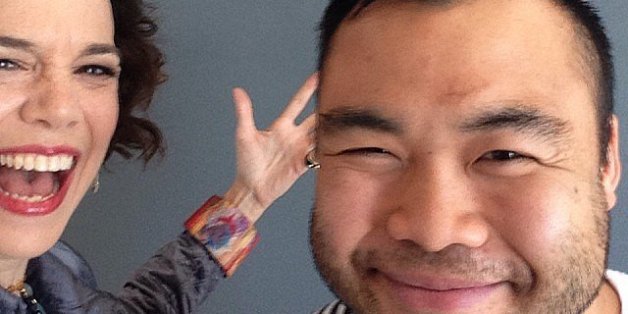 Every year, Food & Wine magazine honors a handful of the culinary world's rising stars with its Best New Chefs awards. The awards, now in their 26th year, honor chefs who have been cooking in their own kitchen for five years or less. Past years' winners have included David Chang, Thomas Keller, Grant Achatz and Danny Bowien. Food & Wine announced the Best New Chefs of 2014 earlier today.
In a continuing effort to speak to a millennial audience (the magazine launched FWx, a new division strictly targeting millennials, earlier this year ), Food & Wine revealed the best new chefs over Instagram. Editor-in-chief Dana Cowin posted selfies -- yes, selfies -- with each chef.
Geography and gender both play notable roles in this year's awards. Three of the chefs are from Texas, one is from Brooklyn and exactly none are from Manhattan. Is this a "new world order?" asked Andrew Friedman of Toqueland on Twitter.
While Food & Wine's attention to chefs outside of Manhattan may represent a positive, progressive posture, the attention paid to female chefs is lacking. Of all the years in which honoring women would be important, this is it. The unequal media attention given to male chefs over female ones is hardly a new subject. As it pertains to Food & Wine's Best New Chefs awards, qualms over the dearth of women represented aren't new either. This would have been the year to address the subject head on.
After TIME Magazine's November "Gods of Food" feature, the food and media world have reignited the conversation over women chefs with new vigor. Following the completely out-of-touch feature, a beautiful backlash ensued, where female chefs and non-chefs, publications and industry insiders voiced their discontent. The New York Times ran a discussion in its "Room for Debate" section asking "Why do female chefs get overlooked," and since then the paper has examined the continued visibility problem of the female chef. Just recently the Times profiled acclaimed Boston-based chef Barbara Lynch.
Julia Moskin's article "A Change in the Kitchen" found that 30 to 50 percent of the culinary staff in some of the country's fastest growing restaurant groups are women. However, "one big question -- why even women who make it to the top rank of chefs struggle for recognition -- has often been posed, and never fully answered."
While we wholeheartedly applaud this year's winners, we wish we saw more than two women honored in this group of 12. To be fair, as Moskin's article notes, more women are increasingly occupying the second- or third-tier jobs, like chef de cuisine and executive sous-chef, and Food & Wine's qualifications require a chef to be leading the kitchen in order to win the award. The problem is both a lack of media visibility and too few women in the role of head chef. Bloomberg News analyzed 15 prominent U.S. restaurant groups and found that women held only 6.3 percent of head chef positions. We hope next year's awards reflect a different reality.
Here are Food & Wine's best new chefs of 2014:
Justin Yu, Oxheart, Houston
Cara Stadler, Tao Yuan, Brunswick ME
Greg Denton and Gabrielle Quinonez Denton, Ox, Portland, OR
Matthew Accarrino, SPQR, San Francisco
Paul Qui, Qui, Austin, TX
Eli Kulp, Fork, Philadelphia
Ari Taymor, Alma, Los Angeles
Dave Beran, Next, Chicago
Matt McCallister, FT33, Dallas
Walker Stern and Joe Ogrodnek, Dover, Brooklyn
Want to read more from HuffPost Taste? Follow us on Twitter, Facebook, Pinterest and Tumblr.