Every town needs its witty sign king. For Honolulu, Hawaii, apparently, that king is Hawaiian Rent-All, an equipment rental company with a penchant for puns.
First, some backstory: the Honolulu Police Department recently garnered national attention when it lobbied against a bill that would make it illegal for officers to have sex with prostitutes. The HPD, not surprisingly, lost the battle, and Hawaiian Rent-All saw an opportunity to console the police officers.
"Don't worry HPD," the marquee sign in Honolulu read. "Still OK to rent hoes from us."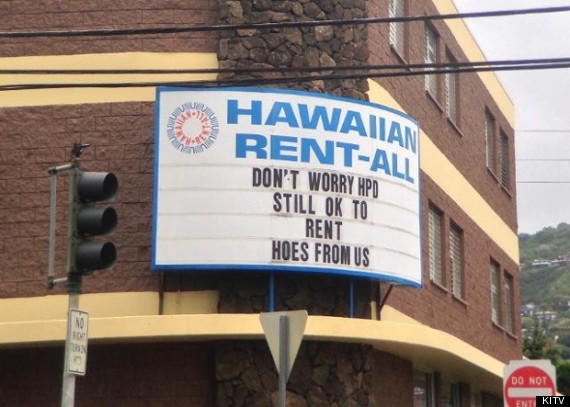 The sign quickly went viral in the Aloha state, but some, including IMUAlliance, a Hawaii-based political action group, aren't laughing.
Faced with complaints that their sign demeans women and trivializes sex-trafficking victims, Hawaiian Rent-All explained itself the only way they knew how:
"As an Equipment rental company, Hawaiian Rent-All carries lawn & garden equipment. Tools that are available for rent include garden hoes, concrete hoes, mortar hoes and back hoes. Hawaiian Rent-All is unaware of any other meanings or uses for these tools."
Sticking to its guns, Hawaiian Rent-All does not plan to take down the sign until Thursday when, according to KITV, it is scheduled to be changed.
BEFORE YOU GO
PHOTO GALLERY
The Most Inappropriate Business Names