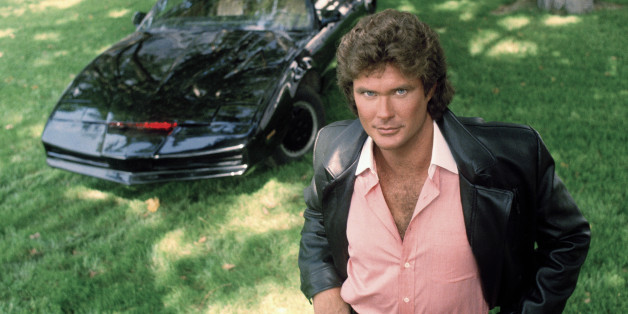 "Knight Rider" fans, rejoice! Now's your chance to own your very own KITT. And not just an ordinary KITT, since this particular 1986 Pontiac Firebird comes from the collection of the Hoff himself.
On offer from Julien's Auctions, the self-proclaimed "auction house to the stars," the KITT model is expected to fetch between $30,000-$50,000 by the time the auction ends, at 10 a.m. PT on April 11.
This KITT is not one of the four cars originally used in the "Knight Rider" television show, writes Wired; however, the car is an incredibly detailed replica that was gifted to series star David Hasselhoff.
The V8-powered Firebird comes complete with KITT's oscillating red lights, "W-style" steering wheel and a dashboard that looks right out of the '80s. The car is even said to "speak" via thousands of recorded sound bites.
The KITT replica was built by a team headed by Jennifer Catano, who told The Huffington Post in an email that it took a year to turn the ordinary Firebird into a real-life KITT before it was given to Hasselhoff in 2012 as a 60th birthday present.
Catano also said she is willing to create a KITT like Hasselhoff's for any interested individual, estimating the cost of such a project would run somewhere between $30,000 and $100,000 depending on the features.
The Hoff is selling other items through Julien's Auctions, as well, including a "Knight Rider" golf cart and a "Baywatch" pinball machine.
Unfortunately, the winning bidder of Hasselhoff's KITT replica will not be able to enjoy the purchase until the end of April, as the auction house points out in its listing that the car is currently on display in Ireland until April 27, 2014. The winning bidder will also have to fork over the costs for moving and shipping KITT to his or her chosen location.
BEFORE YOU GO
PHOTO GALLERY
Bond In Motion 2014