Imagine a place rife with layered cakes, pastel-hued fondant, cotton candy tufts and cherries-on-top, where scantily clad women -- including Katy Perry -- dance upon whipped cream clouds. This is the heavenly sphere of hyperrealist painter Will Cotton, and it's not safe for children.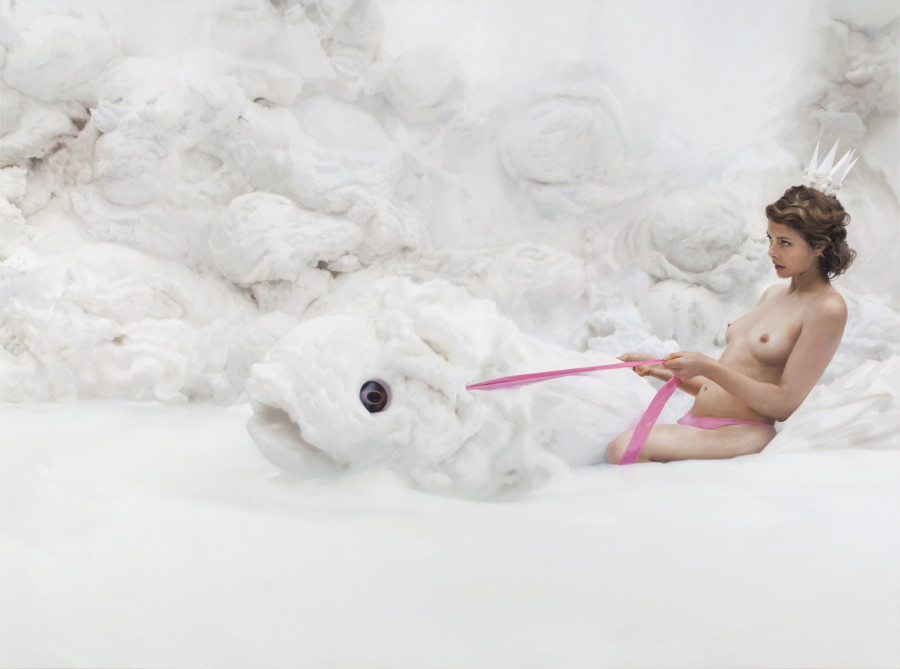 Beyond the Pleasure Principle, 2014
Cotton's painted world resembles a naughty Candyland, where your sexual desires and your sweet tooth can be satisfied in one fell swoop. The over-indulgent works, which teeter on the edge of bad taste, are equal parts Jean-Honoré Fragonard, porn-era Jeff Koons and Willy Wonka.
"Sweetness taken to an extreme degree, as it is in my paintings, becomes cloying, even repulsive, and that's where it gets interesting for me," Cotton says in his statement. Indeed, look long enough at Cotton's milky white dreamscapes and it feels a bit like you've overdone it on the baked goods. His garden of heavenly delights ends up tasting sour as the search for pure indulgence goes awry. This incessant pleasure-seeking, Cotton argues, is the human condition.
Cotton begins his process by building maquettes of the delectable scenarios in his New York studio. From sugary sweet still-lifes to life-sized displays of models dressed in lollipop crowns and not much else, Cotton creates sets to fully capture the texture and detail of his subject matter. Thus his fantastical depictions are shockingly realistic, even if they're of a world-famous pop star riding on a cloud.
While Cotton's paintings aim to critique pure, unadulterated pleasures, many argue his portrayal of nudes fails to do anything but revel in their conventional beauty. As Leah Ollman wrote in the L.A. Times, "Commercially slick and sociologically naive, it doesn't critique indulgence or excess, it merely capitalizes on them." Whether Cotton's works effectively subvert the sweet life or invite viewers to swim in it remains a subject of debate.
See Cotton's visual sugar rush and some behind-the-scenes studio shots below and let us know your thoughts in the comments.

PHOTO GALLERY
Will Cotton
Will Cotton will have his first UK solo exhibition at Ronchini Gallery from June 25 until August 9, 2014.

Correction: An earlier edition of this article mistakenly wrote "Molasses Swamp 2" was created in 1991. It was created in 1999.