Authorities in California recently arrested two men for their alleged connection in the death of Cathy Zimmer, a mother of two who was murdered 25 years ago.
According to Santa Clara County Deputy District Attorney Ted Kajani, investigators have charged Zimmer's husband, David Zimmer and her husband's brother, Robert Zimmer, with murder.
David Zimmer, the prosecutor's office said, has been arrested, in part, because he collected roughly $400,000 from the sale of the home he shared with his wife, as well as life insurance. Robert Zimmer was arrested on the basis of DNA evidence allegedly found on Cathy Zimmer's body, authorities said.
Zimmer, 38, disappeared from San Jose, Calif., on March 8, 1989. In the hours leading up to her disappearance, she dropped her kids off at school, had lunch with a friend and attended two business classes at San Jose State University.
Authorities believe Zimmer made contact with her killer sometime before 2:45 p.m. –- the time she had a scheduled eye doctor appointment in Los Gatos, which she failed to show up for. Family members later told police it would have been unlikely for Zimmer to skip the appointment, because she was looking forward to getting contact lenses.
Zimmer's family members reported her missing to police the following morning.
On March 10, 1989, police found Zimmer's blue 1986 Chrysler New Yorker in a short-term parking lot at San Jose's airport. On the floor of the backseat, underneath the quilted blanket, authorities found Zimmer's body. She was fully clothed and had been strangled to death.
For more than two decades, there were no further developments in the case.
In February, the district attorney's office asked the public for assistance in identifying a handmade quilt -- a patchwork of bright and colorful fabric squares – that was found covering the body of Cathy Zimmer.
"We realized that we had never released the quilt to the public," Kajani told The Huffington Post in February.
At the time, authorities were hoping the quilt would prove to be a crucial piece of the puzzle in the murder mystery.
After The Huffington Post's initial report on the mystery quilt in February, a reader contacted HuffPost and claimed to have knowledge of it.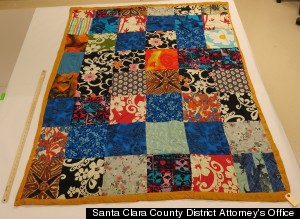 Do you recognize this quilt?
"I recognize this quilt. I helped make it. I know why it went to [California]," the reader claimed.
The reader was put in contact with the prosecutor's office, but authorities are not commenting on the possible lead and the reader will no longer return messages seeking comment from HuffPost.
While it remains unclear whether the lead proved helpful, authorities do claim to have additional proof of the defendants' guilt, which they are not releasing at this time.
David and Robert Zimmer have both entered not guilty pleas. The two men, who are being held without bail, are expected to appear in court on April 18.
"We do not forget victims, nor do we ever give up on justice," District Attorney Jeff Rosen said in a press release announcing the arrests.
Anyone who has information on the slaying of Cathy Zimmer is asked to contact investigator Michael Brown at (408) 808-3760.
Like Us On Facebook |

Follow Us On Twitter |

Contact The Author
BEFORE YOU GO