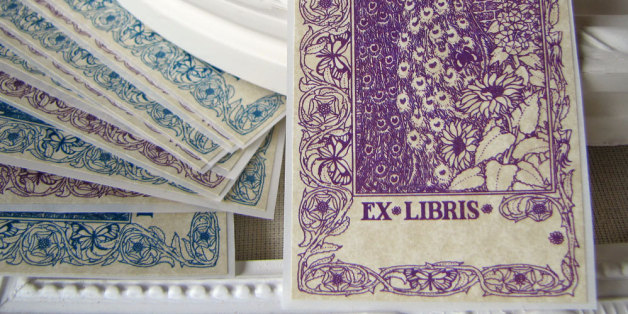 As fervent booklovers, we're also fervent lovers of literary paraphernalia. There's no book-themed scarf, tote bag, art print, or iPhone case we wouldn't jump at -- or at least put on our wish list due to budget constraints.
With this in mind, we wanted to celebrate one of the most bookish literary accessories around: the bookplate. Also known as ex libris, meaning "from the library of," the bookplate has been gracing the inside front covers of books for centuries. At its most basic, a bookplate is a slip of paper bearing the name of the book's owner; at its most grand, it may be a veritable work of art as well.
As ebook sales make up an increasingly sizable share of book sales, it may seem logical that we'll see more and more book-themed iPhone cases and fewer ex librises and bookmarks. But ebooks still only account for 14 percent of consumer spending on books, so there are plenty of hardcovers and paperbacks out there we should be properly accessorizing.
Instead of either scribbling your name in your books with ballpoint pens, or, even worse, not labeling them at all and thus losing many of them in painful post-breakup negotiations, why not consider the bookplate?
Here are 23 gorgeous bookplates to get you started:
PHOTO GALLERY
Amazing Bookplates