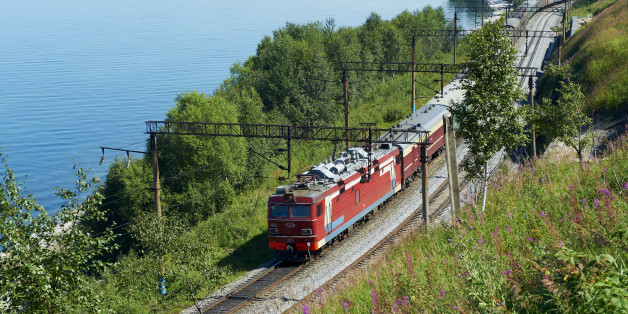 We know, we know: to the average human, a train sounds like an incredibly boring mode of travel.
But wait till you see this.
Great Rail Journeys, a British company, is offering a luxury 53-day, multi-country, multi-continent train trip around the ENTIRE WORLD.
To start, selected passengers will meet in London and board a plane for New York. Nearly three weeks later, they'll have traversed all of America by train with stops in Washington, D.C., Chicago, Denver, the Grand Canyon, Hollywood and San Francisco (this is all taking place in some of the world's most tricked-out train cars, mind you, not the rickety rail line that makes you carsick).
From San Francisco, it's a jet to Shanghai and first-class train cabins to Beijing and the Great Wall of China. Then you'll traverse the Gobi Desert on the Trans-Siberian Railway (the longest and most famous train route in the world) before visiting Moscow. Finally, there's a complete train tour of Europe including Warsaw, Vienna, Prague, Venice and (last but not least!) Paris, before ending in London where it all began.
The trip departs on May 18, 2015, and some of the tickets have already been sold. Reports say the company has only 25 to give away... but we really, REALLY want one.
Oh, and did we forget to mention? Tickets also happen to cost $37,000.
BEFORE YOU GO
PHOTO GALLERY
World's Most Scenic Train Trips