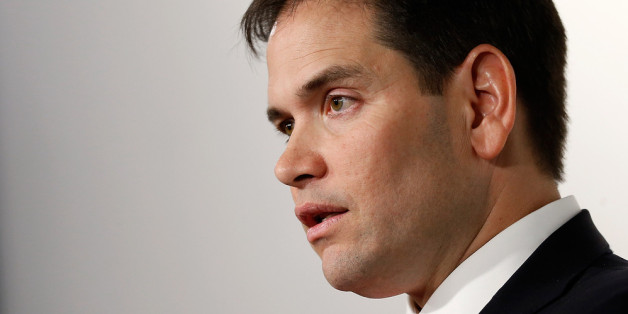 Sen. Marco Rubio (R-Fla.) said Wednesday he will not seek reelection to the Senate if he runs for president in 2016.
Rubio's comments came during an interview with conservative radio host Hugh Hewitt, in which the Florida senator dismissed the idea of having an "exit strategy" while seeking the nation's highest office.
"I think, by and large, when you choose to do something as big as that, you've really got to be focused on that and not have an exit strategy," Rubio said.
Florida state law also prohibits individuals from appearing on the ballot for two different offices. "I think that's the right law," Rubio said.
The Florida senator's remarks stand in contrast to Kentucky Sen. Rand Paul, another potential contender for the next GOP presidential ticket. Paul has said he will definitely run for reelection in 2016, regardless of whether or not he runs for president. A state Senate committee in Kentucky even approved a bill last month that would allow Paul to seek both offices simultaneously.
Rubio said he is still weighing what his political future may hold and reiterated that he expects to reach a final decision on a potential White House bid early next year.
"I think that's around the time I'll have to make a decision about something, I mean, because I'll either have to run for reelection, or not run for anything, or run for another office," Rubio said. "I don't think there's an individual date in mind for anybody. Everybody has their own timetable, but around this time next year."
BEFORE YOU GO
PHOTO GALLERY
Marco Rubio