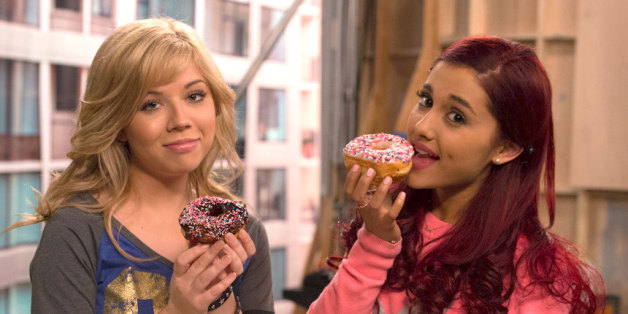 Hit Nickelodeon show "Sam and Cat" has not yet been renewed for a second season, despite its popularity among the network's key demographics. Reports say that the show has been canceled and that production has stopped, but the network has neither confirmed nor denied the reports to HuffPost TV.
"Sam and Cat," which stars Jennette McCurdy and Ariana Grande, became Nickelodeon's highest-rated series, with a 40-episode first season that wraps soon. Deadline reports, "There has been talk about discord on set with emotions running high." The network issued a vague statement in regards to the show's future and said:
We are wrapping up what was an unusually long production cycle of Sam & Cat, and everyone is understandably tired. We are going into our production hiatus next week which will give everyone on the show a much needed rest.
No doubt, this refers to recent events in McCurdy's personal life. Last month, she landed in hot water when racy photos leaked online. Since then, McCurdy has been at odds with Nickelodeon, and has taken to Twitter to express her concern.
She recently wrote a tweet explaining why she didn't attend the Kids Choice Awards, and said, "It has to do with how Nickelodeon treated me. That's all."
Nickelodeon did not return immediate request for comment.
BEFORE YOU GO
PHOTO GALLERY
TV's Hardest Workers