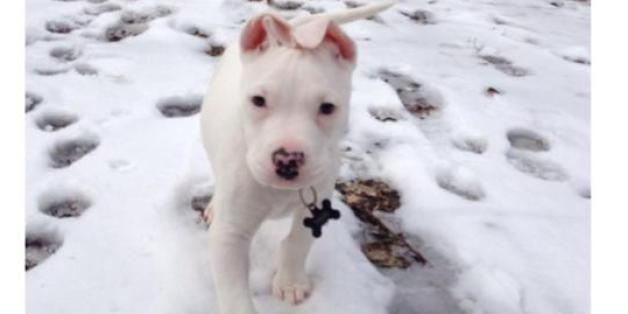 Baltimore County Police have charged two men in connection with the theft of a deaf pit bull puppy from a Timonium apartment.
According to a news release, the suspects are Mark Tyrone Gibson, 37, of the 800 block of N. Broadway St. and William Terrell Hudson, 33, of the 4300 block of Roberton Ave. Both have been charged with first-degree burglary and theft from $1,000 to under $10,000, court documents show.
Police said Wednesday afternoon that they were being held at the Baltimore County Detention Center on $20,000 bail each.
The suspects were arrested Tuesday after making arrangements to sell back Thor, the puppy, to owners Mike Lenhart and Anna Hiken. Hiken said Lenhart was at the exchange with police, which took place in the parking lot of White Marsh Mall, and she stayed home.
Lenhart returned with Thor around 11 a.m., she said, but even before he arrived he showed her the puppy using a cell phone video call.
"My boyfriend actually Facetimed me as soon as he had [Thor] in his arms," Hiken said. "I immediately started crying, just because it's so unreal to me."
The investigation by the department's burglary unit is ongoing, and other items taken in the burglary, such as a 55-inch flat screen television, a PlayStation 3, a MacBook Pro and other electronics, have not been recovered, police said. Hiken said she hopes the items are recovered, but getting Thor back was the couple's priority.
"The one thing that we wanted was back home. We could care less about the other stuff," she said.
Police initially responded to the incident at 11:28 p.m. on March 13, according to the release. The investigation indicated the suspects entered the couple's apartment through a rear sliding glass door between 3:45 p.m. and 11:27 p.m.
Lenhart and Hiken previously started a gofundme.com page called "help save thor!!" to raise money for the dog's safe return. She said they received about $1,370 in donations and a pledged match of $1,000 from the Baltimore Bully Crew, a nonprofit organization of pit bull owners and enthusiasts. All donations are being refunded by gofundme.com, Hiken said.
Court documents do not list lawyers for Gibson or Hudson.
qkelley@baltsun.com ___