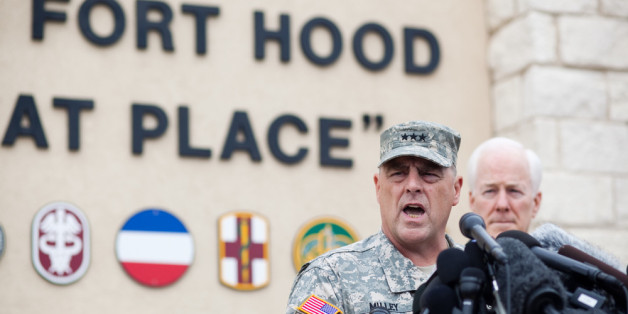 Reports of bravery and heroism are surfacing after the Fort Hood shooting in Texas on Wednesday.
The base commander, Lt. Gen. Mark Milley, used the word "heroes" to describe those who stepped up during the attack by Spc. Ivan Lopez, who killed three people and wounded 16 before taking his own life.
Milley honored an unnamed female military police officer who reached for Lopez's gun and shot at him just before he killed himself, NBC reported.
"He was approaching her at about 20 feet. He put his hands up, then reached under his jacket, pulled out the (.45) and she pulled out her weapon and then she engaged, and he then he put the weapon to his head," Milley said at a Wednesday press conference, according to NBC.
At a press conference Thursday, Milley also praised "a chaplain who shielded others. ... He broke some windows to get people to safety," according to ABC. The base commander in addition honored two wounded soldiers who "demonstrated heroism and had the presence of mind" to make the first 911 calls.
"There were several instances here of clear heroism," Milley said, according to ABC.
Lopez had not displayed violent tendencies before the shooting, according to The Associated Press. He had experienced psychological trauma from serving in Iraq and had reached out in the past for help with depression, anxiety and other issues.

BEFORE YOU GO