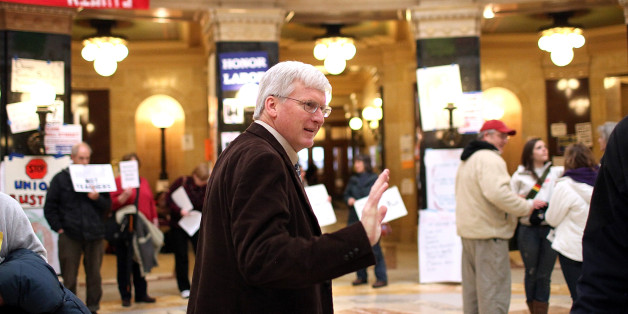 WASHINGTON -- Glenn Grothman, one of the Wisconsin state Senate's most conservative members, announced Thursday morning that he intends to run for Congress. He will challenge moderate Rep. Tom Petri (R-Wis.) in the 6th congressional district.
In a statement, Grothman cited his frustration with "a federal government that seems to be out of control," saying he was "troubled about our country's future."
"I am even more concerned about the massive trend towards government dependency," he said. "The number of people on FoodShare has gone from seventeen million as recently as 2001 to forty-seven million today. The number of people on disability has risen from five million people to almost nine million people in the last thirteen years, all while job safety has improved greatly."
"This rush towards government reliance has lead to the well-documented destruction of the American nuclear family, which will have severe, negative consequences for the next generation," he added.
Grothman has been hinting in recent days that he might be eyeing higher office.
In a Thursday morning interview to discuss his decision with conservative radio host Charlie Sykes, Grothman admitted that he currently doesn't live in the 6th district, but planned to move.
"I don't think it's going to be an issue," he said, according to the Milwaukee Journal Sentinel.
Grothman has made a name for himself championing conservative causes. He sponsored legislation that repealed the state's Equal Pay Enforcement Act, fought for a seven-day work week, proposed a bill that would have considered single parenthood "a contributing factor to child abuse and neglect" and argued that public employees should have to work on MLK Day. Last year, he said Kwanzaa is a fake holiday that "almost no black people today care about."
Petri has been in office since 1979. In his statement, Grothman said the congressman is a "decent, genial person" but added that "he does not have the sense of urgency which the above statistics should engender."
When asked for comment on his new challenger, Petri said in a statement, "My record of pragmatic conservatism will speak for itself. I respect Glenn and the work he's done at the state level. I will run a strong campaign and I expect to win in August and November."
According to the AP, at least two other Republicans, state Rep. Duey Stroebel and John Hiller, a close ally of Gov. Scott Walker (R), are thinking of challenging Petri.
BEFORE YOU GO
PHOTO GALLERY
Conservatives Pointing Fingers