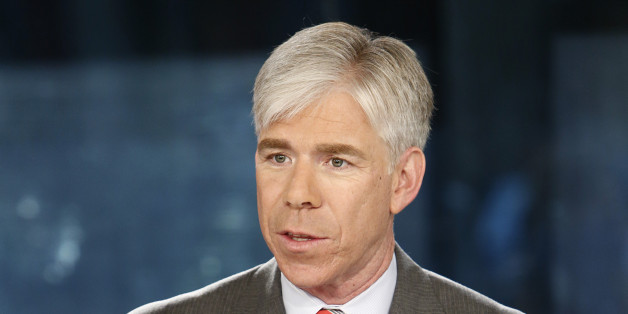 It's official: "Meet the Press" just came in third place for the third quarter in a row.
CBS News' "Face the Nation" and ABC News' "This Week" topped the NBC News show in both total viewers and the key A25-54 demo, according to the latest Nielsen ratings. The news was not surprising, given that "Meet the Press" came in third for five out of the past six weeks. "Face the Nation" was the number one show, with an average of 3.348 million total viewers and 980,000 in the key demo.
The ratings mark the continuation of troubles for "Meet the Press," which was also third place for the third quarter of 2013. It was the first quarter that "This Week" beat "Meet the Press" in 16 years, though it did so by just a thin margin (2.532 million total viewers to 2.513 million).
This time, the margin was wider at 92,000 total viewers — the most ABC News said it has beat "Meet the Press" by since 1997.
The news certainly does not ease worries for host David Gregory, who has been the subject of criticism in the past year. NBC News senior vice president Alex Wallace attempted to tamp down speculation about his role in an interview with The Huffington Post's Michael Calderone, insisting that the show is "doubling down on David Gregory." Wallace said that Gregory is at the center of their plan to expand their digital presence.
Nielsen ratings compare the first half hour of "Face the Nation," which became an hourlong program in 2012, to its rivals. NBC News would argue that it ranks second when all three programs are compared for the entirety of the shows' duration— an issue that the network and CBS News have clashed over before.
Meanwhile, ABC News proudly touted the Q1 numbers in a release Thursday with the headline: "For the 3rd Quarter in a Row, 'This Week' Beats NBC's 'Meet the Press,' Leading the NBC Program by its Largest Quarter Margins in Both Total Viewers and Adults 25-54 in Over 16 Years."