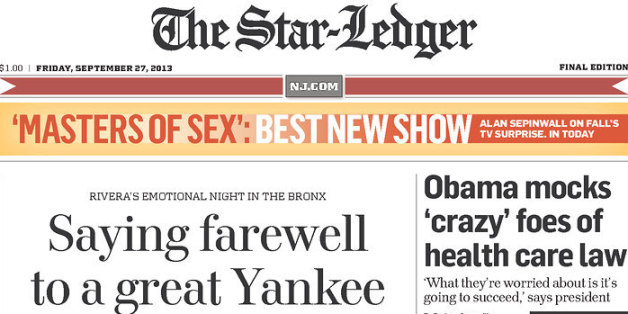 The Star-Ledger announced brutal cuts to its staff on Thursday.
The newspaper said it will eliminate 167 jobs, including "40 reporters, editors, photographers and support staff." The latter number represents 25 percent of the newsroom. Reporters Ted Sherman and Mark Mueller said it was "a grim day of reckoning at the state's largest newspaper" in the Star-Ledger's own report about the cuts.
Other journalists lamented the news on Twitter, writing:
Thoughts with friends at the Star-Ledger today. Will never understand the survival strategy of keeping customers by giving them less.

— Chris Jones (@MySecondEmpire) April 3, 2014
Keeping my fingers crossed for the many good journalists and friends at the Star-Ledger today.

— Judy Battista (@judybattista) April 3, 2014
My heart is with all the journalists past and present at the Star-Ledger. Such a great and ambitious paper, once. http://t.co/vFElwMjLtm

— tommy tomlinson (@tommytomlinson) April 3, 2014
Sad news at the #Star-Ledger, my hometown paper now that I live in the Garden State. http://t.co/LZ7C0lf2NJ

— Henri Cauvin (@henricauvin) April 3, 2014
Sad day for NJ and newsrooms everywhere. RT @starledger . @starledger cuts 167 jobs, including 40 newsroom positions http://t.co/TE1OJ9OMbc

— Kara Yorio (@karayorio) April 3, 2014
The Star-Ledger reported that the cuts come as the newspaper tries to reduce costs and consolidates operations with "sister publications" in New Jersey, as well as nj.com, which is its online home. It added that beyond the layoffs, a "parade of people" have left in recent weeks.
The print newspaper, like many others across the country, has not had an easy time lately. It laid off 34 people, including 18 in the newsroom, at the beginning of 2013. It also faced a potential closure last year over stalled talks with its production unions, but later reached a deal that allowed it to avoid shutting down.