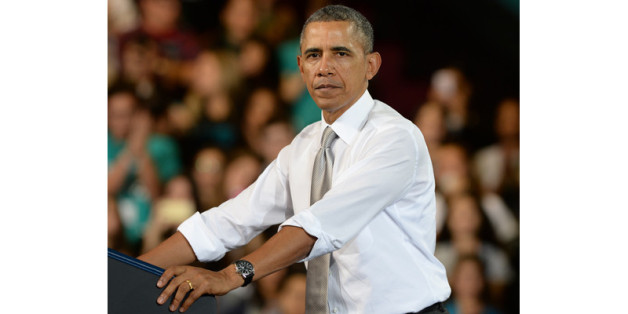 A new poll finds 'Obamacare' outpolling Obama. Americans think most politicians are corrupt. And Chris Christie doesn't seem to be burning any bridges among Republicans. This is HuffPollster for Thursday, April 3, 2014.
ANOTHER POLL SHOWS RISING ACA SUPPORT, ENTHUSIASM GAP FAVORING GOP - Mara Liasson: "A new bipartisan NPR poll shows approval numbers rising for Obamacare — which is now slightly more popular than its namesake….After a horrendous debut in October, the Affordable Care Act ended its enrollment period with more than 7 million people signed up. And our poll shows the law is viewed a little more favorably now." Stan Greenberg, the Democratic half of NPR's polling team notes: "'If you look at this poll for NPR, we asked whether you favor or oppose the Affordable Care Act or Obamacare. It comes out 47 percent support and 51 percent oppose, with the intensity on the opposition side,'….In past midterm elections when control of one or both houses flipped, there was a big enthusiasm gap between the two parties. In 2006, Democrats had the energy. In 2010, it was Republicans. This year's enthusiasm gap does favor the Republicans, but by only 7 points." [NPR]
The Dem spin - Democracy Corps (D): "In its analysis, Democracy Corps urges the political class to re-examine its assumptions about The Affordable Care Act and about this being a Republican year. The Republicans have bet heavily on Obamacare's unpopularity, but that misreads the public's views on the Affordable Care Act. This is a base and turnout issue for Republicans but the public judgment is dynamic and moving and could come to haunt the Republicans." [Dem Corps]
The GOP spin - Resurgent Republic (R): "The midterm election in the sixth year of a president's term has been bad news for the party controlling the White House for a century, and this year looks like no exception….As seen in a myriad of recent public polls, opposition to Obamacare is at its highest point since becoming law. For the first time in NPR polling, a majority of voters disapproves of the health care law, 51 to 47 percent. Our survey also shows Independents have calcified in their opposition to the law, 59 to 38 percent. President Obama and congressional Democrats remain on the losing side of the intensity battle." [Resurgent Republic]
Is 'Obamacare' really more popular than Obama? - NPR's survey puts support for the ACA and for President Obama at virtually the same level - 47 percent and 46 percent, respectively. (Although NPR hasn't asked about the health care law since 2012, a poll in July of that year put approval at a similar 45 percent.) With the exception of a recent ABC/Post poll, most recent surveys put the law's support at closer to 41 percent, while Obama's approval averages 44 percent. [Pollster ACA chart, Pollster Obama approval chart]
-Political scientist Jonathan Bernstein: "47 vs. 46? I'd call that 'exactly as', not 'more.'" [@jbplainblog]
AMERICANS SEE MOST POLITICIANS AS CORRUPT - Emily Ekins, from the libertarian Reason Foundation: "Americans don't paint a pretty picture of their public servants in the new national Reason-Rupe poll. Americans tell Reason-Rupe that 75 percent of all politicians are "corrupted" by campaign donations and lobbyists. And they say 70 percent of politicians use their political power to help their friends and hurt their enemies. No wonder just 17 percent approve of the job Congress is doing. Or that President Obama's approval rating is just 43 percent, with 51 percent disapproving….If the 2014 elections were held today, 40 percent of Americans said they'd vote for the Democrat in the congressional district and 36 percent would vote for the Republican. " [Reason]
BRIDGE SCANDAL DOESN'T HURT CHRISTIE AMONG GOP - Emily Swanson: "The national spotlight on Chris Christie as a result of the "bridgegate" scandal is now hurting the New Jersey governor's national ratings, a new HuffPost/YouGov poll shows. But among fellow Republicans, Christie's ratings are almost entirely unchanged. Forty-five percent of Americans have an unfavorable opinion of Christie, while 34 percent have a favorable opinion….The dip in Christie's ratings since January has occurred almost entirely among independents and Democrats, however, while opinion among Republicans is largely unchanged. Currently, 51 percent of Republicans say they have a favorable opinion of Christie, while 33 percent say they have an unfavorable opinion. In January, Republicans said they had a favorable opinion of Christie by a nearly identical 50 percent to 29 percent margin. As of the most recent poll, 10 percent of Republicans say they will definitely support Christie in the 2016 Republican primaries, while another 32 percent say they will consider supporting him and 26 percent say they won't consider supporting him -- again, unchanged since the January poll." [HuffPost]
TIME FOR MORE TORTURED HEADLINES ABOUT 'HOT' POLITICIANS - Quinnipiac: "American voters have cooled toward traffic-plagued New Jersey Gov. Christopher Christie, dropping him from his January ranking as the hottest politician in the nation to ninth place today, with a chilly 45.2 degree mean temperature, as the Quinnipiac University National Thermometer ranks American voter feelings toward national political leaders….Number one today is U.S. Sen. Elizabeth Warren of Massachusetts, at 48.6 degrees, but 46 percent of American voters don't know enough about her to form an opinion. Former Secretary of State Hillary Clinton is second with 47.8 degrees and only 1 percent don't know enough about her. This is a little cooler than her 48.5 degrees in January, but she jumps from seventh place to second place because several Republican leaders have cooled off." [Quinnipiac]
HUFFPOLLSTER VIA EMAIL! - You can receive this daily update every weekday via email! Just click here, enter your email address, and and click "sign up." That's all there is to it (and you can unsubscribe anytime).
THURSDAY'S 'OUTLIERS' - Links to the best of news at the intersection of polling, politics and political data:
-Republican pollster WPA finds Mike Huckabee a leading candidate in Iowa. [Des Moines Register]
-Tom Wolf takes a definitive lead in the Democratic primary for the Pennsylvania governor's race. [F&M]
-Sean Sullivan runs down the polling on Democrats' intensity problem. [WashPost]
-Amy Walter says Rand Paul shouldn't be viewed as a frontrunner. [Cook Political]
-Democratic pollster Celinda Lake hopes a push on the minimum wage will increase Dem turnout in the midterms. [WashPost]
-Alex Lundry (R) talks data science with Mike Allen. [Politico]
-Rep. John Tierney (D-Mass.) leads in an internal primary poll. [Roll Call]
-Belated, from April Fools': Sunlight Foundation looks at the congressional Zodiac. [Sunlight Foundation]