You're gonna do it one day. You know you are. We know you are. But when Reddit user vom1tcom1t did it, he broadcasted his decision to the entire Reddit community: "I finally did it! I'm quitting my job and traveling."
Other users -- some who had traveled for days and others who have been gone for years -- responded with congratulations, suggestions and advice. We've compiled their greatest wisdoms here, along with some of our other favorite tips on how to make the best of it when YOU (yes, YOU) quit your job and travel the world.
1. Start (or stay) in Southeast Asia.
"It's cheap, beautiful and made for backpackers to travel around. You can't ask for a better place to start your first trip... If you're trying to make the most of your money, stay in Asia." --@joefelice
2. Bring a towel and three pairs of socks.
"Dry socks and underwear make a world of difference when you're trekking... one dirty pair that needs to be washed, one dry pair for sleeping/backup, and one to wear during the day." --@spacesteak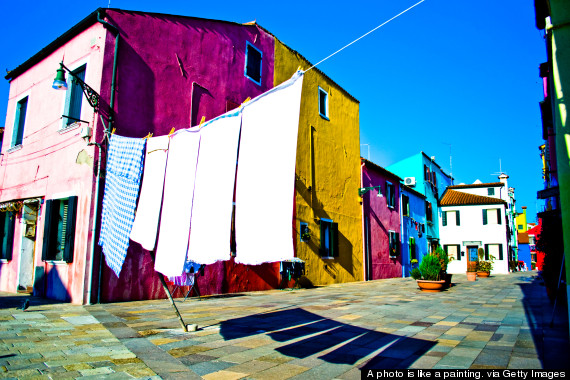 3. Park yourself in an airport town.
"Base yourself in a city with a good low-cost carrier connection. Work a couple days a week, then go to a different destination on your days off. Save big trips for when you accrue annual leave. I've been traveling for two years in Europe and have more money than when I left." --@therethere87
4. Find a buddy for moral support.
When former attorney Katie Aune was doubting her decision to leave it all behind, she chatted online with other people who were planning to do the same. "It really made [traveling] seem possible," she said.
5. Rent a truck and drive it around Namibia.
These guys did it, and they had a great time. They also brought a tent and camped along the way.
6. Go alone.
"Traveling by yourself is not so scary at all, especially in a hostel environment where every other traveler is a built-in social group. It's just part of the culture: go out as a group, have fun, and explore together." --@in_the_airoplane
7. Get a job while you're in Australia.
"If you get an Australian work visa you may find you have more money than what you left with. Their wages are so high that it's worth buckling down for a few months to fund your trip for another year." --@curlytemple 8. Design a route that makes geographic sense.
In Australia, for example, "realize the distances between large cities are generally the same as the distances between EU countries... pick a single city and its surrounds (Melbourne or Sydney for most people) and only hang around longer if you can afford a few hundred to get to the next city." --@joop86au
9. Make money off your empty bedroom.
"Buy a house; rent it out while you travel." --@nojusticenpeace
10. Don't let retirement be your excuse.
"What is dangerous is when delayed gratification becomes an excuse for not living the life you want."
11. Line up a job before you get back.
"I travelled for a year, came back home to Australia and couldn't believe just how quickly my money dried up, even living with my parents." --@karlosvonawesome
12. Bring a nice camera.
And YOU could bring home photos like THIS.

13. When opportunity presents itself, seize it.
"I had a four-week return flight and only this much time away from work. In the last three days of my trip, a scuba shop in Panama said they saw talent in me and asked me to stay and do an apprenticeship. It was the hardest decision I ever made to call my boss to say I wouldn't be there on Monday, but also the best thing I've ever done." --@curlytemple
14. If you're feeling unsure, take a test trip.
"A good test is to find a city near-ish-by, one with a decent hostel. Go for a weekend... it's pretty much the same as a year, when you get right down to it. Most people only spend three days in a town or city, anyway. You'd meet people who are traveling, hear how they do it, go out and see stuff. It's really only scary the first time." --@lazyjayn
15. If you're gonna have to leave a job before you travel, don't procrastinate.
"Quitting a job is a bit easier when you're younger." --@williamtbash
16. Dig deep into culture.
"We spend more time getting into local cultures instead of partying with other travelers. We also tend to go to more out-of-the-way places." --@newtothisredditbiz 17. Work odd jobs as you go.
"Most people save money up for a few years and spend until it's gone (or close to gone). There are ways to stretch it, though, through working on the road, doing work exchange at hostels and hotels, and freelancing online." --@lazyjayn
18. Travel NOW, while it's easy to pick up and run.
"Don't get me wrong; you can still travel when you're older. But I'd rather do it before I am tied down with a wife, a house and kids. It's pretty hard to leave once you have things keeping you here." --@williamtbash
19. Hold on to the dream.
"You only have one life; your income won't mean much when you're buried. I'd rather give my kids a great life story over a lavish lifestyle." --@counttess
BEFORE YOU GO
PHOTO GALLERY
10 Obscure Gap Year Destinations Countdown