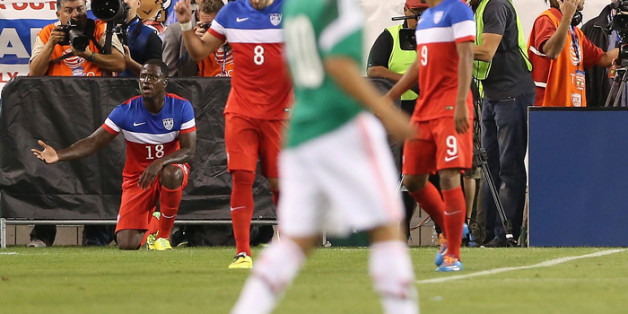 In the closing minutes of their latest rivalry match with Mexico, the members of the U.S. soccer team could have been forgiven for believing they were playing in the unfriendly confines of Estadio Azteca rather than on home soil. Not only were the Americans sporting their new away uniforms, but all the officials' calls seemed to going against them.
With the rivals level 2-2 in the 85th minute of a not-so-friendly exhibition encounter, U.S. striker Eddie Johnson seemed to cap an impressive sequence of interplay with a go-ahead goal. The 30-year-old ran onto a pass from teammate Clint Dempsey and clinically deposited the ball into Moises Munoz' net.
(GIF via @mshamburger1)
The celebration among the U.S. players on the field and the U.S. fans in stands in Arizona was cut short by the raising of a linesman's flag. Johnson had been called offside and the goal was disallowed.
After the goal was waved off, ESPN showed viewers a replay that superimposed a line across the field at the moment that Dempsey passed Johnson the ball. That view made it appear that the call was incorrect and that Johnson had been level with the defender when the ball left Dempsey's foot.
(GIF via @danecarbaugh)
"At the end of the day I thought that we deserved that third goal," Dempsey said after the match ended in a draw, via ESPNFC. "You know if you look back at the tape it looks like Eddie's onside so I think 3-2 would have been a fair result, but 2-2 is fine."
From the touchline, U.S. coach Jurgen Klinsmann displayed the full range of emotions experienced by his players and their supporters in the moments immediately following the apparent score.
(GIF via @PeteBlackburn)
BEFORE YOU GO
PHOTO GALLERY
PHOTOS: U.S. Soccer's 'Bomb Pop' Uniforms