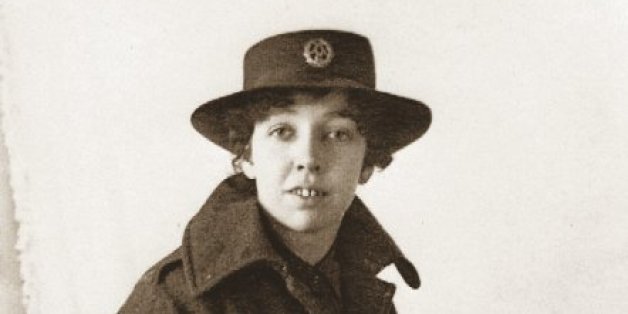 The following is an excerpt from Great War Fashion: Tales from the History Wardrobe [The History Press, $39.95]
When war broke out, it was seen as man's work. Newspapers filled with reports of mobilization, diplomacy, military engagements... and fashion pages for women showing clothes some of them were suddenly afraid to buy because of war economies. Suffragist Millicent Garrett Fawcett helped to open workshops to employ women thrown out of work by the war. She noticed how upset many young women were, writing in The Woman's Part, her account of war work: "when they saw the advertisements everywhere displayed calling upon young men to join the colors, announcing in huge letters YOUR COUNTRY WANTS YOU, and reflected that their country did not want them".
In 1915, the militant branch of the Pankhurst family organized a mass rally demanding that women be given the right to serve. Meanwhile, fashion showed its military affiliations by adopting uniform design details. There was an attack of 'khakiitis' in tailor-made suits, some with frogging, some with bold military buttons, and some even with tiny gold stripes on the sleeves to mimic those awarded to wounded soldiers. Not everyone approved of this homage to military honors: "after all," rasped a correspondent in the Daily Graphic, "they've won them hard, our lads have – why on earth should we go and imitate them and wear decorations we aren't entitled to?"
That women could be entitled to uniforms and decorations of their own took some time to filter up to the highest levels of the armed services, and down to the widest reaches of public opinion. It was understandable. Women had barely been seen in uniforms before, save for religious habits, Nightingale's nurses and the sprightly bonnets of the Salvation Army. Girls at private schools and grammars had to wear uniform, and there was the smart get-up of the new Girl Guides, but the rash of new organizations that sprang up with war all jostled to create their identity through uniform. From the beginning of the war, organizations such as the Women's Legion fell back on quasi-military styles as they designed uniforms. The next four years saw an unprecedented opportunity for women to adopt some of the status, duty and sense of belonging represented by uniforms.
Check out these amazing photos of women's donning menswear during WWI:
PHOTO GALLERY
Menswear During WWI