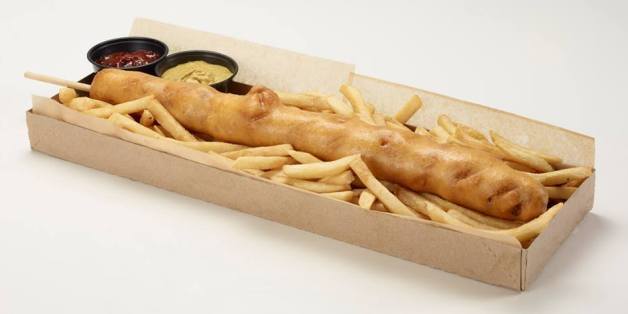 America's national pastime may be steeped in traditions like the Seventh Inning Stretch and ceremonial first pitches, but when it comes to food, Major League Baseball parks are cooking up grub that goes way beyond peanuts and popcorn.
The Arizona Diamondbacks capitalized on the changing tastes of baseball fans -- or at least the American ingenuity that can pack five great snack foods into a single meal -- when it debuted the new D-Bat Dog, an 18-inch toppings-stuffed corn dog served with a side of fries for $25 (see below).
"[The D-Bat Dog] is really about providing our fans with new options each year and in the case of some of our larger items, it's really about sharing with the family," Diamondbacks President and CEO Derrick Hall told HuffPost through a spokesperson.
Hall told the gossip site TMZ the team came up with the idea for the D-Bat because "We had some complaints we were being too healthy. This is to appease those people."
Fans reportedly snapped up 300 D-Bat Dogs on opening day. But Arizona is hardly the only team catering to fans' hearty appetites. From epic interpretations of the traditional ballpark frank to 12-scoop sundaes, here are some of the most unreal items you can dig into next time you head out to the old ball game.
Three-pound banana split
Team: Chicago White Sox
Price: $17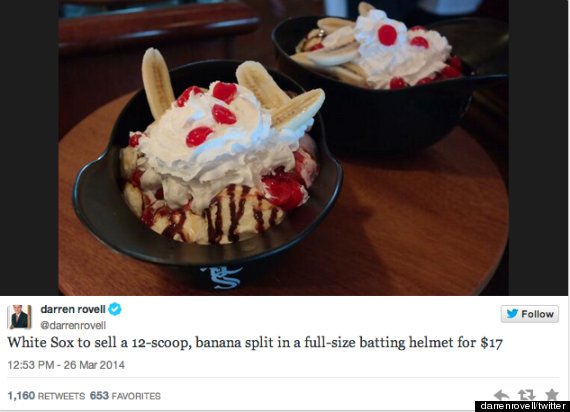 Take 12 scoops of vanilla, chocolate and strawberry ice cream, drizzle them with caramel, strawberry sauce and chocolate syrup, toss in some bananas and the typical sundae toppings and you have the White Sox's latest ballpark treat that's estimated to be "north of 4 or 5,000 calories."
A sausage wrapped in pretzel roll and smothered in crab dip
Team: Baltimore Orioles
Price: $15
The Walk Off isn't just for the end of the game, get yours anytime at Dempsey's! pic.twitter.com/adSFyWq2Y1

— Baltimore Orioles (@Orioles) April 3, 2013
Introduced in 2013, the Orioles' appetizer that eats like a meal is probably the only ballpark food that you, as the Washington Post notes, "need a weapon to cut."
The Totally Rossome Boomstick
Team: Texas Rangers
Price: $32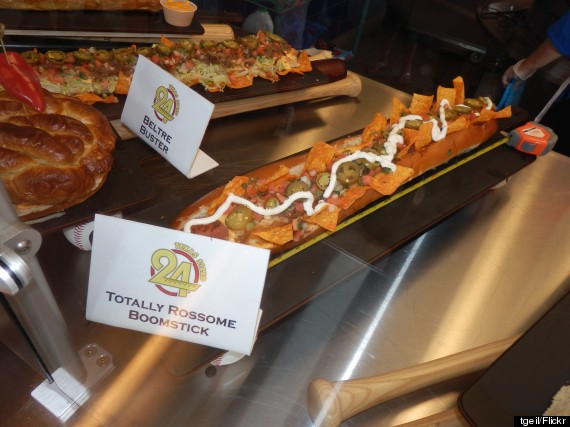 Take the Broomstick, a "tremendous-larger-than-life" hot dog measuring two feet and weighing in at one pound of beef and up the ante by topping it like nachos with smoked brisket, pico, sour cream, and Doritos to make it "Totally Rossome."
The D-Bat Dog
Team: Arizona Diamondbacks
Price: $25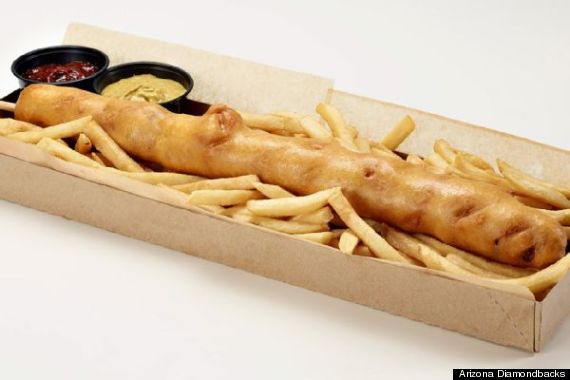 The Diamondbacks' home run meal for 2014 is the aforementioned 18-inch corn dog stuffed with cheese, jalapenos and bacon. Just to be sure you get your money's worth, it also comes with a side of fries.
Poutine Hot Dog
Team: Detroit Tigers
Price: $7
About to try the #Tigers new poutine hot dog and new egg/bacon/cheese dog. Details about memorial services to come. pic.twitter.com/ri77EZD8UE

— Bill Shea (@Bill_Shea19) March 31, 2014
Though the latest Comerica Park creation helps gnoshers skip the pesky step of eating a bite of frank and then some fries and gravy, the $7 poutine hot dog looks downright restrained compared to other items on the list. Behold its simplicity: Take a serving of poutine -- fries, gravy and cheese curds -- and cram them into the bun with a hot dog.
The Beltre Buster
Team: Texas Rangers
Price: $26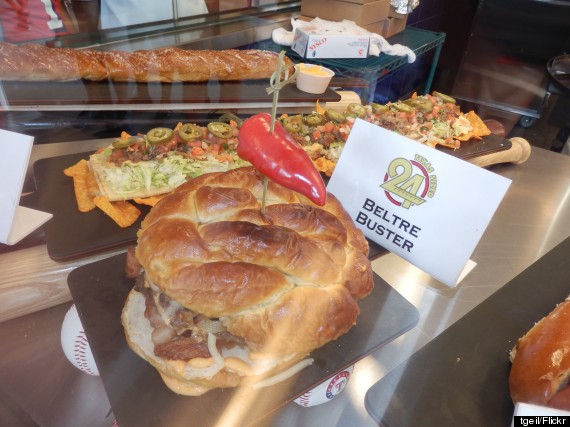 It shouldn't be much of a surprise that Texas goes all-out when it comes to the meaty Beltre Buster burger. A pound of beef is the supporting structure for a half pound of bacon, onions, cheese, and chips on a pretzel bun.
Fan Vs. Food Burger
Team: Tampa Bay Rays
Price: $30
Finish our 4-pound Fan vs. Food Burger & a pound of fries, get 2 tickets to a future #Rays game & a shirt. #LiteLunch pic.twitter.com/THhgk90gn2

— Tampa Bay Rays (@RaysBaseball) March 28, 2014
A four-pound burger? Ah, but if you finish it, you and a buddy score free tickets to another game (and another chance to attempt this glorious meat pile).
The StrasBurger
Team: Washington Nationals
Price: $59
PIC: Nats say folo Twitter to see games 8 lb StrasBurger will be served. @TheRealStrasBurger handle still available pic.twitter.com/EGPlOhbp

— Neal Augenstein (@AugensteinWTOP) April 12, 2012
If there's anything that can make a four-pound burger look dinky ... it's an eight-pound burger. The cardiac surprise known as the StrasBurger is indeed a whopper -- but it's meant to feed eight people.
The Pulled Pork Parfait
Team: Milwaukee Brewers
Price: $7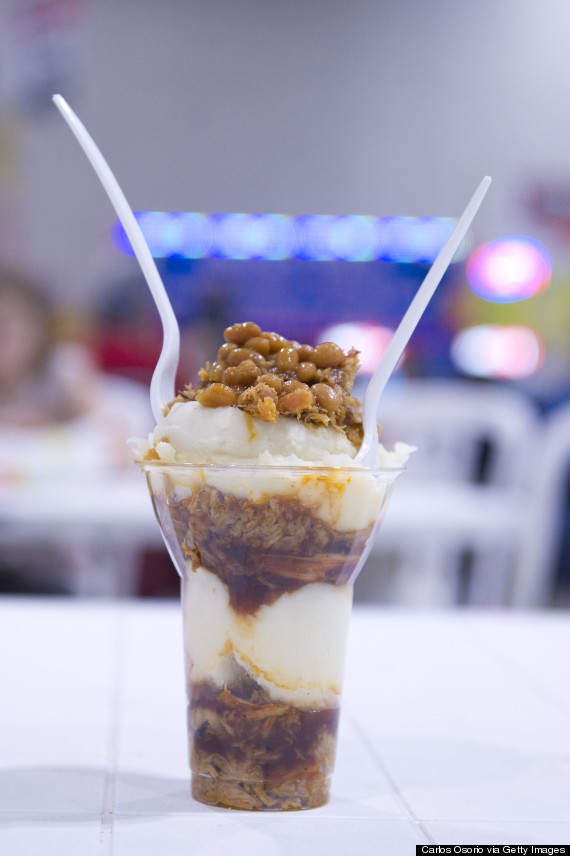 The Brewers pulled pork parfait (porkfait?) is perhaps the most Wisconsin thing to ever happen at Miller Park. The parfait takes on a deceptively dessert-like form, but instead of chocolate sauce and whipped cream you have pork gravy and mashed potatoes. The PPP is, however, the only ball parkfood on the list with its own Twitter account.
Bloody Mary Cocktail
Team: Minnesota Twins
Price: $18
Bloody Mary at Hrbeks this summer Target Field. Can't wait!!!! pic.twitter.com/8FU5u0HGED

— Kent Hrbek (@Hrbie14) March 28, 2014
We're not sure whether to laugh or cry. If you've swapped brunch for a ballgame, at least you can drink your meal -- with an entire bacon cheeseburger attached.
The Closer Grilled Sammie
Team: Pittsburgh Pirates
Price: $14.50
New at Pirates games this year: The Closer (grilled cheese w/NINE diffferent cheese & candied bacon) pic.twitter.com/2a7gODhmf2

— darren rovell (@darrenrovell) March 27, 2014
Why choose one cheese for your sandwich? The Closer doesn't press you for such choices, and instead gives you nine cheeses all at once. Lest you think it's totally unhealthy, there is apple compote.
Want to read more from HuffPost Taste? Follow us on Twitter, Facebook, Pinterest and Tumblr.