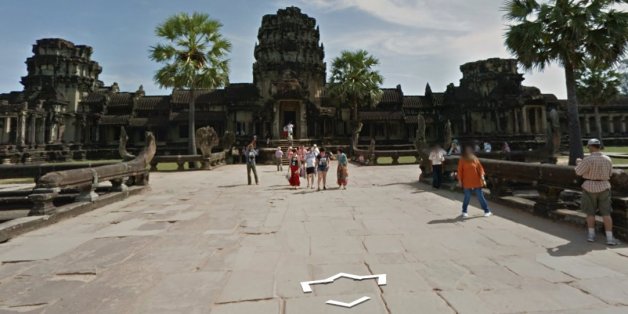 Virtual wanderers can now explore the ancient Cambodian city of Angkor -- including the famous temple of Angkor Wat -- entirely from their laptops, thanks to Google Street View.
...it's just the latest chapter in visiting places we want to visit without actually visiting them.
Start the Street View trek of Angkor to cruise the streets of Cambodia before approaching Angkor Wat, the largest religious monument in the world. Once inside, you'll inspect huge stone faces carved into walls, traverse abandoned courtyards, meander empty hallways, and ogle moss-covered roots of ancient trees.
Hang out with other tourists by the river, or let Google guide you to highlights like the Stairs Ascending to Heaven or Statue of Vishnu. You pretty much feel the Cambodian humidity, and every wall etching looks crystal-clear.
The mind-boggling tour comes from Google's 90,000 photos of the temple complex-- taken with Street View cars, tripods, and Trekkers, the backpack-like cameras that have allowed Google to bring the Grand Canyon and Taj Mahal to Street View in recent years.
We don't want to say we'd rather take a Street View tour than visit Angkor in real life, but this is an pretty modern -- and pretty beautiful -- way to see an ancient monument. Get an overview with Google's video tour.
BEFORE YOU GO
PHOTO GALLERY
Cambodia Spirit Houses