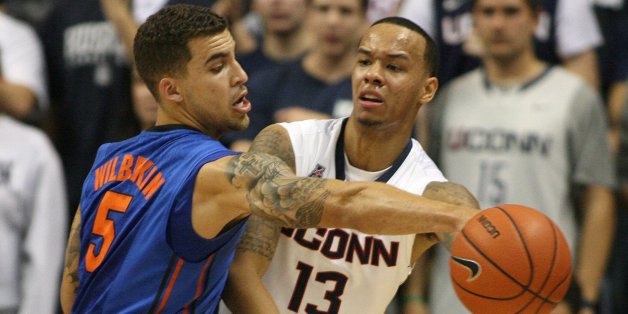 Year after year, one thing remains true about the Final Four: It's as much a spectacle as it is a pair of basketball games fueled by teenagers and 20-somethings. And 2014 will be no different. Jerry's World, the North Texas stadium where both games will take place, may as well be a $1.3 billion advertisement for the Dallas Cowboys. But beyond all the drama and hype are the key head-to-heads that will dictate Saturday night's play. To understand how UConn can topple mighty Florida and whether or not Kentucky's freshmen can stand up to Wisconsin's experience, we must understand the critical matchups of each game.
UConn vs. Florida
Shabazz Napier vs. Scottie Wilbekin
Both are seniors, both are conference players of the year and both are the heartbeats of their respective teams. UConn's Napier is by far the better player, though, and it's his ability to constantly attack and make plays that Wilbekin will have to at least temporarily thwart. Napier is shooting 45 percent from 3 in the NCAA Tournament and 93 percent from the free throw line. The former McDonald's All-American is as relentless and fearless as he is talented -- you need only look to his game-winning shot against Florida a few months ago for proof.
Wilbekin, for his part, is a crafty, tough kid who has answered the call whenever Florida needs a big shot. He doesn't always do it in the prettiest way, but his body control in the lane and willingness to step up are precisely the attribiutes a senior point guard is supposed to display. Napier has a big quickness advantage, however, and he's terrific at defending ball screens despite his diminutive 6-foot-1 frame. If Wilbekin and the Gators are misfiring, Napier gives UConn a one-man fast-break as well: He pulls down 15 percent of opponents' missed shots, per ESPN.com.
DeAndre Daniels vs. Casey Prather/Michael Frazier II
We can talk about Florida's Patric Young and the UConn bigs, but it's been Daniels who has provided UConn coach Kevin Ollie with a tremendous offensive lift -- 55 percent 3-point shooting in the tournament -- and the versatility at 6-foot-9 to guard multiple positions. Prather, meanwhile, is one of Billy Donovan's classic slashing glue guys and premier athletes, and Frazier is the best shooter in the SEC and a potential Final Four Most Outstanding Player as a result. Daniels has the agility to guard either one, while Prather and perhaps SEC Sixth Man of the Year Dorian Finney-Smith will defend him. Daniels was able to post up against Michigan State and Iowa State while also stepping away from the basket to make big 3s, but Prather also possesses excellent length and quickness, and will be largely responsible for limiting the scoring opportunities of Daniels. If Wilbekin can win or even tie the matchup with Napier, Daniels against Prather could determine the outcome of this game.
Kentucky vs. Wisconsin
James Young vs. Josh Gasser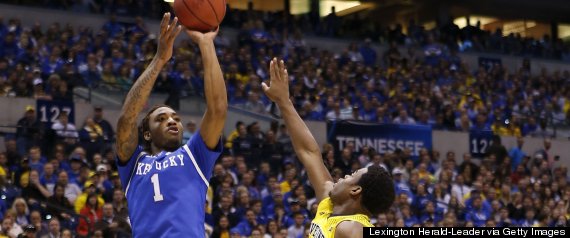 Kentucky's Young (pictured above) is one of those classic John Calipari freshmen who plays like a junior or senior. He has tremendous size for a shooting guard at 6-foot-6, and though he's not yet a great 3-point shooter, he's displayed a sound shooting stroke for much of the season while averaging 14 points. The Harrison twins have received plenty of fanfare this year, but Young is the better prospect and might be Kentucky's most important player not named Julius Randle. How he'll handle the size and discipline of Wisconsin, however, we don't yet know. The Badgers will counter him with junior Josh Gasser, a prototypical Bo Ryan wing who lacks elite quickness, but uses toughness and a high skill set to his advantage. Wisky has converted nearly 38 percent of its 3s in the tournament, and Gasser is a threat as both a shooter and a passer.
Julius Randle vs. Sam Dekker/Frank Kaminsky
This is perhaps the best matchup of the Final Four. The 6-foot-9 Randle, as we noted earlier this week, has been marvelous throughout Kentucky's run, more than living up to his billing as a premier prospect and potential top overall pick in the NBA Draft. The key for Randle is that Calipari has continually found ways to isolate him from 12 feet and in, where he can attack the basket and score or draw fouls in the paint. Meanwhile, Dekker, a wiry 6-foot-7, may be "just" a sophomore, but he's a potential first-round pick himself. He does everything well -- shoot, defend, rebound, screen -- and he can be the difference in this game because of it. But we don't know how Badgers coach Bo Ryan is going to guard Randle, nor do we know how Calipari will defend Kaminsky, whose made 62 percent of his 2s in the tournament. The 7-footer has been arguably the best player throughout March, averaging nearly 19 points per game and showing us an entire arsenal of offensive weaponry. He won't be able to handle Randle without fouling, and on the flip side, Randle will be exposed guarding the perimeter because of how well Kaminsky shoots the ball. The potential X-factor here is rising Wisky freshman Nigel Hayes, a smooth operator on the block who can really score.
Bo Ryan vs. John Calipari
Talk about two coaches who could not be more different. Ryan has the championship Division III pedigree and recruits overlooked players that other Big Ten powers don't want. He has never once had a one-and-done player during his 13-year tenure in Madison. Calipari has had two Final Fours vacated at UMass and Memphis, and is coming off yet another top-ranked recruiting class headlined by a record six McDonald's All-Americans. And yet both coaches stress ball movement -- Ryan with the vaunted "swing offense" and Cal with the dribble-drive weave -- predicated off of unselfishness and players making "basketball plays." Kentucky will have the dramatic quickness and athleticism advantage, but Wisconsin will have the experience edge. How each coach exploits this will be incredibly important.
Email me at jordan.schultz@huffingtonpost.com or ask me questions about anything sports-related at @Schultz_Report and follow me on Instagram @Schultz_Report. Also, be sure and catch my NBC Sports Radio show "Kup and Schultz," which airs Sunday mornings from 9 to 12 ET, right here.