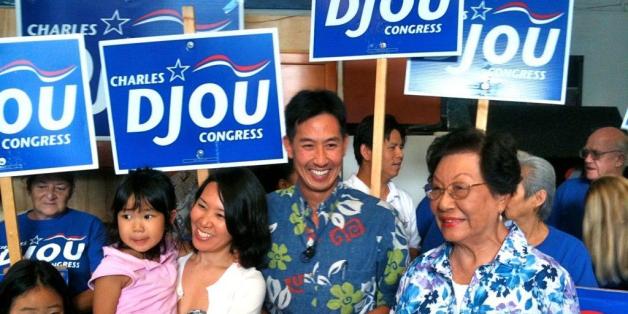 HONOLULU -- As was widely expected, Charles Djou is once again running for Congress. But why bother?
The 2014 election will mark the fourth time in four years that Djou has run for the 1st Congressional District seat representing urban Oahu. He has won only once, in the May 2010 special election to replace Neil Abercrombie, who resigned to run for governor.
That race saw Colleen Hanabusa and Ed Case split the votes of Democrats and independents; Djou received 39 percent of the winner-take-all contest and went to Washington for just over seven months. Case elected not to oppose Hanabusa in the 2010 Democratic primary, and she then defeated Djou in the November general election by 6 percentage points.
In the 2012 rematch, Hanabusa won by nearly 10 percentage points over Djou. Now, Hanabusa is running against Brian Schatz in the U.S. Senate contest, leaving the CD 1 seat open.
History is not on Djou's side. Hawaii has only sent three Republicans to D.C. since statehood in 1959. But here are eight arguments for why he just might pull it off.
1. Djou has the most congressional experience.
Sure, seven-plus months is not a whole lot of time, but he did serve and he has a voting record. None of the seven Democrats running for CD 1 have held office in D.C. More importantly, Djou still has D.C. contacts. While national Republicans are unlikely to throw campaign money his way -- the GOP seems certain to retain control of the U.S. House and they have a real shot at the Senate -- Djou will probably be able to leverage his relationships.
2. Hawaii may want a Republican voice in D.C.
This was the argument that Linda Lingle made when she ran against Mazie Hirono for the Senate in 2012. Lingle got trounced, and her political career is probably over. But Djou can make the argument that he would best deliver for Hawaii, especially if Republicans win control of both houses of Congress.
3. He's a military veteran.
The fact that Djou is a major in the U.S. Army Reserves who deployed to Kandahar Province in Afghanistan in 2011-2012 didn't help him much in his 2012 race. But Hawaii is fond of its military heroes; witness Tulsi Gabbard's meteoric rise. Among Democrats running for CD 1 this year, only Mark Takai has comparable veteran status.
4. Pat Saiki is the GOP Party Chair.
Hawaii's Republicans are in disarray once again, led by a revolving door of party chairs. Saiki is holding the job on a temporary basis. But aside from Djou, the late Hiram Fong and Saiki are the only other Republicans that Hawaii has sent to represent the state in the nation's capital — in fact, in the same CD 1 seat. Saiki is a moderate Republican, and there is still a lot of love for her among Republicans and even voters outside of the party.
5. Djou has run before.
Yes, he lost three out of four times. But he did manage to attract nearly 100,000 votes in 2012, an increase of 15,000 from the 2010 race. None of the Democrats in the race have ran before in a district as large as CD 1, which takes organization, canvassing and get-out-the-vote efforts. Djou also has wide name recognition, something only Democrat Donna Mercado Kim can lay claim to. He knows federal issues, and he can hold his own in a debate.
6. Djou is an appealing candidate.
In addition to his military service, Djou is the child of immigrants (from China and Thailand), a Punahou graduate who holds political science and economics degrees from the Wharton School of Finance and Commerce at the University of Pennsylvania, and a law degree from the University of Southern California. His wife, Stacey, is local, a Kalani High School grad who earned her own law degree at the University of Hawaii. They have three adorable kids. Djou turns 44 on Aug. 9 -- primary day.
7. Djou loves his country and his state.
Most every politician does, of course. Yet, Djou joined the Army Reserve one month after Sept. 11, 2001. "I did so because I believe in America and everything our country stands for -- freedom, liberty and equal opportunity," he explains on his congressional campaign website. "But, our government today is failing us. The politicians in office simply aren't listening. Partisan politics has become more important than people. We need leaders who will fight for our country, our children and our future -- to create jobs, and make sure people can afford to live in our beautiful state."
8. Djou has a memorable last name.
As he explains on his campaign website, Charles's grandfather worked for a French engineering company in Shanghai in the 1920s where his French boss only spoke French and Chinese. The boss called Djou's grandfather "Dijou," which sounds somewhat like his grandfather's Chinese name "Zhou." With the communist revolution beginning in 1948, Djou-Dijou-Zhou fled to British-controlled Hong Kong, and "Djou" was the name he wrote in his immigration papers.
Djou is a former state legislator and Honolulu city councilman. Some political pundits thought he might run for the U.S. Senate to face Schatz or Hanabusa in November. There was talk he might run for governor, too, which would have pitted him against Duke Aiona in the GOP primary. Still others thought he would run for mayor at some later date.
Nope. It's CD 1 again, and there are many reasons Djou may not prevail this fall. I'll list just a few:
We are the bluest of states, and even with an unpopular native son in the White House, we still love Barack Obama. We like health care, too, and most of us don't care for the tea party types in Washington who are bent on repealing Obamacare. And, as attractive a candidate as Djou is, it's hard to shake a loser label. He can also come across as the smartest guy in the room who happens to know it.
But Charles Djou is Hawaii Republican's best hope for high office.
Contact Chad Blair via email at cblair@civilbeat.com or follow him on Twitter at @chadblairCB.
BEFORE YOU GO
PHOTO GALLERY
Senate Seats Up For Grabs In 2014