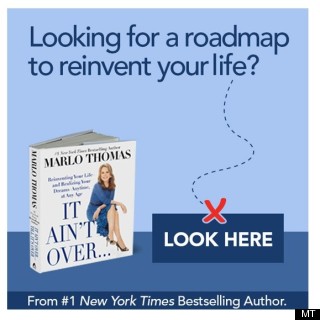 "Never face the facts; if you do you'll never get up in the morning."
That's one of my favorite sayings, and I truly believe it. The facts -- polls, statistics, conventional wisdoms -- can keep anyone from ever starting anything. Better to create your own facts.
That's one of the reasons I created my website: to give women a destination where they could gather together, tell their stories, share their passions, and encourage one another to create a new dream -- or to go back and pick up an old one.
I've always believed that it's never too late to reinvent yourself, or to pick up the pieces and start over when life has thrown you a curveball. That's why, shortly after we launched this website, we began our series, "It Ain't Over," which has introduced us to a group of extraordinary women who found themselves at a crossroads in life, then seized control, redoubled their efforts and went for the gold.
Some of these women built empires out of a single idea. Others found new ways to fulfill themselves after experiencing profound personal disappointments. And some simply rejected their own complacency and rebuilt themselves -- physically and mentally.
Thanks to you, "It Ain't Over" has become a huge hit on this site -- and so I've created a book , with 60 all new stories. That way, women can always have it handy -- in their purses, on their night tables, propped up on the handlebars of their Lifecycles -- and draw encouragement from it.
Although all of the women who appear in the book couldn't be more different, what they have in common is that they all dared to dream again -- and they knew that no one had the power to make their dream come true but themselves. Each and every one of them has proven that "impossible" is just something that hasn't happened yet -- and that if you want to predict the future, invent it!
Get your copy of It Ain't Over…Till It's Over, on sale now.
Add Marlo On Facebook:
Follow Marlo on Twitter:
Sign up to receive my email newsletter each week - It will keep you up-to-date on upcoming articles, Mondays with Marlo guests, videos, and more!