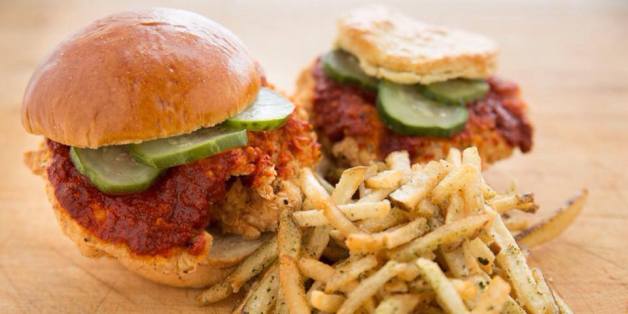 Turns out the latest addition to Chicago's fried chicken boom is serving up much more than tasty, crispy sandwiches with diet-defying sides.
Leghorn Chicken, a foodie hotspot that opened last month in the city's Ukrainian Village, makes it very clear they don't share the politics of a certain other fried chicken outpost. Leghorn describes themselves as a "socially conscious" restaurant. Per their website, they "proudly and enthusiastically champion gay rights" by donating 2 percent of their profits to organizations that support gay rights and also plan to offer free birth control -- in the form of Leghorn-branded condoms -- at the counter.
"We are emphatically uninterested in your organized religion, secular religion, agnosticism, atheism or nontheism," the restaurant's website reads. "Whatever tickles your pickle."
Still, chef Jared Van Camp, who owns the restaurant along with hospitality group the Element Collective, has refused to name names when it comes to the Chick-fil-A comparisons.
"I would never cite any names or franchise," he told the RedEye's Dana Moran.
Leghorn's food and message alike appear to have been a hit -- even if its loud hip-hop soundtrack has proved "vexing" for some. It sold out of its sustainably-sourced chicken in just 90 minutes on its opening day and has been praised by food writers.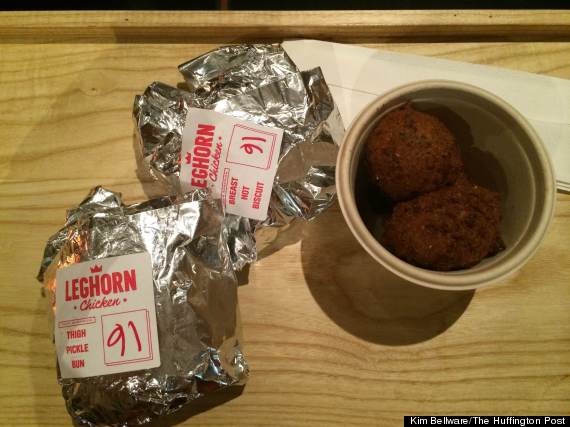 These hush puppies though.
As for our latest visit to the restaurant, the condoms were M.I.A. -- they are apparently still in production but should be available "in a couple of weeks," according to an employee -- but the grub itself lived up to the hype. The "Nashville Hot" chicken sandwich was the perfect amount of smoky-spicy and the green chile hush puppies were sensational, though the hand-cut nori fries were less memorable.
Kim Bellware contributed to this report.
BEFORE YOU GO
PHOTO GALLERY
25 LGBT-Friendly Products & Companies Targeted By Boycotters