Maxim model Paulina Gretzky doesn't play professional golf but she is engaged to PGA tour star Dustin Johnson and has two famous parents, hockey great Wayne Gretzky and actress Janet Jones Gretzky.
That apparently was enough for Golf Digest to put her on its cover. It was also enough to irk players on the LPGA Tour, the New York Times reports.
"We don't get respect for being the golfers that we are," two-time major winner Stacy Lewis said, according to the paper. "Obviously, Golf Digest is trying to sell magazines. But at the same time you'd like to see a little respect for the women's game."
Seven-time major winner Juli Inkster seemed to feel the same way. "It's frustrating because it's Golf Digest; it's not Sports Illustrated's swimsuit issue. I think they should maybe recognize some of the great women golfers that we have," she said, according to the Times.
(Story continues below)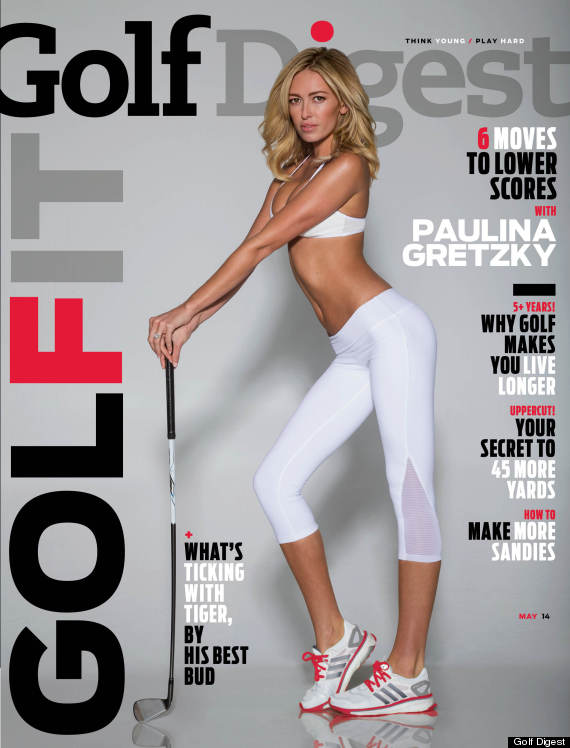 Gretzky, who gained visibility by posting provocative selfies on social media, is not setting any precedent, USA Today notes. Kate Upton (who appeared with Arnold Palmer) and Golf Channel anchor Holly Sonders were the previous two women to grace the cover of the magazine. The last LPGA tour winner to make the cover was Lorena Ochoa in 2008.
"You know the old saying, sex sells," veteran pro Angela Stanford said, according to USA Today. "And nobody can argue with that. It's just the way it is. But the LPGA has some attractive women and very fit women, so why not use them? I'm just baffled by it."
Golf Digest Editor-in-Chief Jerry Tarde defended the Gretzky cover in a statement, explaining that Gretzky, "ranks at the high end of the golf celebrity scene" and could attract new readers.
The article about Gretzky, who tells the magazine she once missed the ball in front of 30 people while playing in her dad's tournament, features the model doing golf-improvement exercises. The issue hits newsstands April 15.