Phyllis Gould knows World War II would not have been won without the homefront efforts of women like her and her fellow real-life "Rosie the Riveters." Still, the 91-year-old former WWII shipyard welder told ABC News, "Truthfully, I always thought I would drift through my life invisible to anybody."
Instead, Gould and five of her fellow Rosies from the San Francisco Bay Area were invited to the White House by Vice President Joe Biden Monday, receiving a long overdue honor, a "Biden hug" and in one Rosie's case, a kiss on the lips from the Commander in Chief.
"You deserved this visit a long, long time ago," Biden told the women, according to ABC News. "Seeing these women working in a factory, doing anything any man could do, it began to change everything."
PHOTO: The VP met w/ Rosie the Riveters today to highlight the positive example they've set for generations of women. pic.twitter.com/iPCmDsgO73

— Office of VP Biden (@VP) March 31, 2014
Gould said she had written letters to every president since Bill Clinton requesting a meeting at the White House in recognition of the Rosie's contributions to the World War II effort; Biden was the first politician to respond.
Biden first called Gould on Veteran's Day of 2013 to invite her and her fellow Rosies to D.C. telling her, "I expect a real hug" (embedded below):
During the visit, President Obama surprised the ladies during their meeting with Biden. Ninety-year-old riveter Kay Morrison wasted no time asking the president for a hug but slyly turned it into a kiss on the lips, later adding, "I hope Michelle forgives me for it."
After the visit, ABC's Lara Spencer caught up with Morrison to ask her about the sneaky kiss.
"I did," she admitted. "That's a Rosie for you!"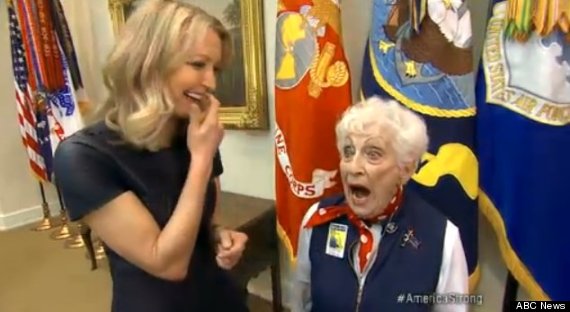 Riveter Kay Morrison cops to stealing a kiss from the president.
BEFORE YOU GO
PHOTO GALLERY
Real-Life Rosie The Riveters