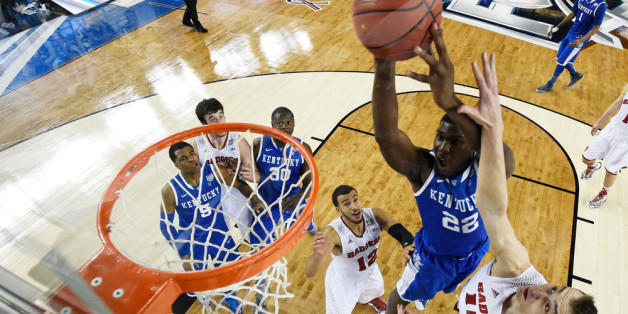 Alex Poythress didn't score the most points for Kentucky. He also didn't score the last points for Kentucky. But the sophomore may have scored the most acrobatic and unforgettable points of Kentucky's thrilling win over Wisconsin at the Final Four.
"He's playing fearless and he's just almost reckless, which is great for him because of his athleticism," Kentucky head coach John Calipari said of Poythress after his team earned a spot in the national championship game.
The 6-foot-8 forward has often and understandably been overshadowed by Calipari's latest group of freshman stars during the season but he delivered a can't-miss performance at AT&T Stadium on Saturday night. Scoring on all four of his shots, Poythress produced eight of the loudest points in the 2014 NCAA Tournament.
With Kentucky off to a slow start against Bo Ryan's Badgers, Poythress scored his first basket of the night on alley-opp pass from teammate James Young.
After scoring just that one basket in the first half, the 20-year-old from Clarksville, Tenn., got his six-point second half started with a prescient tip in that only hinted at the improvisation and power that was to come.
(GIF via @haydenhbird)
After Wisconsin had regained the lead deep into the second half, Poythress' third basket of the night reversed the momentum. With the exception of the game-winning shot by Aaron Harrison, this empathic two-handed "Poythressization" may be the most memorable play from the Final Four.
(GIF via @HPbasketball)
"We need to start a run, just think about your brothers that have just been through all the hardships with you, been through all the tribulations, everything, just think about them," Poythress later said when asked about his thought process during his team's late surge.
Here is another look at the hardship he visited upon Wisconsin's Sam Dekker.
(GIF via @mshamburger1)
With the game tied 69-69 a short while later and the clock ticking toward two minutes remaining, Poythress again showed off his breathtaking athleticism. Grabbing an ambitious lob from teammate Andrew Harrison, he managed an acrobatic lay-in to give the Wildcats the late lead.
While those watching at home and from the Wisconsin bench were likely surprised by the ridiculous hookup between Harrison and Poythress, Kentucky's Julius Randle was not.
"I didn't think it was too high," Randle told reporters after Kentucky's 74-73 win when asked about the pass and score. "We have seen Alex do some freak things in practice and there was no way he wasn't getting that ball."
Wisconsin quickly called a timeout after Poythress' latest and last jaw-dropping basket. Kentucky coach John Calipari welcomed his oft-overshadowed sophomore star to the sideline with a hug and a kiss.
(GIF via @gifdsports)
Unfortunately for Poythress, the excitement didn't end after the final buzzer. He got his leg tangled up in the postgame celebration and appeared to be in a bit of pain.
BEFORE YOU GO
PHOTO GALLERY
Best 2014 Sports Photos