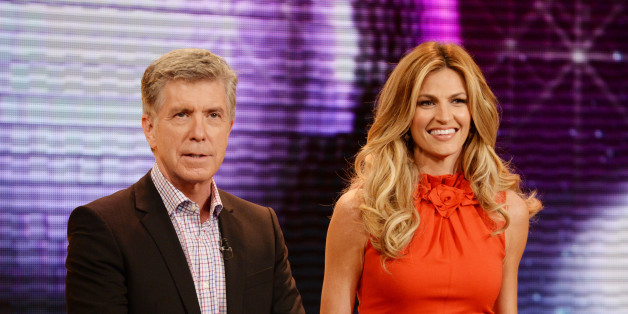 "Dancing With The Stars" has been full of drama this season. From the dreaded partner switch to former child star romance rivalries, fans of the show have been treated to an extra helping of controversy -- and it's only week four!
And while Maks might still be upset over losing partner Meryl Davis to his brother this week, tension isn't only being felt on the dance floor.
Newly minted "DWTS" host Erin Andrews has only four weeks behind the mic, but admits taking over for former host Brooke Burke hasn't been easy. Tabloid reports claimed sources close to the show accused Andrews of "diva" antics on set and even suggested she might soon be getting the axe -- something executive Conrad Green quickly shot down -- but it looks like the nasty rumors may have gotten to the rookie co-host.
"I've got to be honest ... It kind of got me worried and scared," Andrews told TV Guide after admitting to calling the show's producers to clear the air. "I just went back and forth with the producers like, 'Are we good here? Please tell me what I need to work on. Please tell me what I need to do. 'And they're like, 'We couldn't be happier.'"
The tabloid fodder couldn't have come at a worst time for Andrews, who said she was already struggling with finding her niche on the show.
"After the first show, I was kind of down on myself because I felt like maybe I was a little aggressive," Andrews said, "I'm my toughest critic, and I'm really never happy, unfortunately, with what I do."
Andrews serves as a Fox sports reporter and was a former contestant on the show before being approached to take over hosting duties along with Tom Bergeron. Despite all the gossip, she says she loves being back on "DWTS."
"Doing that show as a dancer was one of the best times in my life," Andrews said. "It's good to be back home."

BEFORE YOU GO
PHOTO GALLERY
Dancing With The Stars Season 18