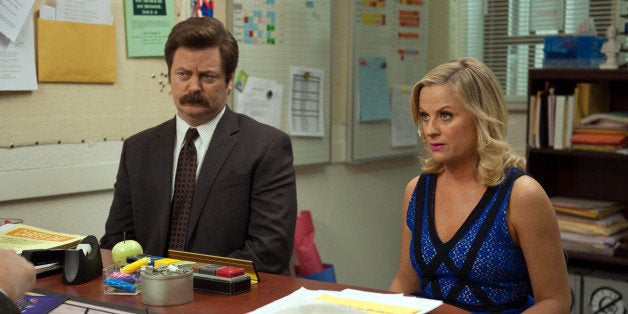 Nick Offerman -- our favorite woodworking libertarian on NBC's "Parks and Recreation" -- hosted another "Ask Me Anything" session on Reddit this week and it was even more glorious than the last one. From the art of woodcarving -- a hobby he shares with his on-screen alter ego Ron Swanson -- to the best life advice he's ever gotten and what to expect from his directorial debut on this week's episode, we were treated to another insightful look into the mind behind the mustache.
"Through mere luck of the draw, I was handed an incredible episode, in story and location and guest stars," Offerman wrote when asked what fans should expect this week. "Some BIG shit goes down in this episode, and Adam (Scott) plays one of the most hilarious and original drunks I've ever seen."
We also learned that Bo Burnham, Jeff Tweedy and Sam Elliott -- of whom Offerman admitted to being "openly in man-love" with -- will be guesting on the upcoming episode.
But the biggest reveal came when one Reddit user finally asked what we've all been dying to know: who's the funniest cast member on the "Parks and Rec" set?
"That's a tough one," Offerman said. "Amy Poehler is our champion and leader, and I would have to say she is #1."
So, he basically confirmed that Amy Poehler is amazing. We already knew that. But Offerman was nice enough to rank the rest of the cast in terms of funniness, just in case you still had any questions.
"Chris Pratt is a true comic genius so he's #1.1" Offerman wrote. "Aziz (Anzari) makes anything he says ridiculously funny and Aubrey (Plaza) has a delightfully wicked flavor of evil mischief so they're maybe tied at #1.15. Adam Scott is not behind the folks previously mentioned, plus he wields a mighty sword as a straight man. He's in the #1.05 region. Retta shares Aziz's propensity for simply laying out deliciously crisp one-liners, so I'd rank her in the top 6 as well.... I think that's everybody."
BEFORE YOU GO
PHOTO GALLERY
'Parks and Recreation'