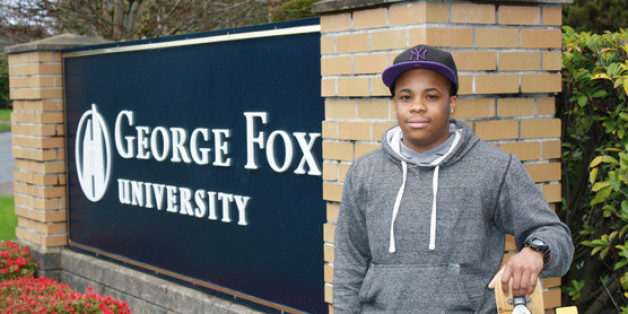 A transgender college sophomore who identifies as male has been barred from living in all-male dorms, and now his lawyer has lodged a federal complaint against the university.
George Fox University, a Christian school in Newberg, Ore., says officials denied the student's December request to live with his male friends because of the school's "theological commitments." The university says it's in the process of implementing a policy that only permits housing arrangements based on birth sex, according to a letter obtained by PQ Monthly, a Portland-based LGBT magazine.
At the time, the university gave the student, who is identified as Jayce, two alternative living options for the 2014-2015 school year, according to the outlet. The first option was to live off campus with his male roommates, as long as he notified their parents about the arrangement and changed his name and sex on his driver's license and social security card. The other option was to live alone.
"While I appreciate university administrators meeting with me regarding my housing requests, their ultimate decision makes me feel rejected, misunderstood, and punished for something I cannot change," Jayce told PQ Monthly.
After the student's latest appeal was denied on April 3, lawyer Paul Southwick filed a Title IX discrimination complaint with the U.S. Department of Education. As Portland news outlet KATU notes, Title IX requires universities that receive federal funding must employ equal treatment of all sexes.
"[T]hey were unwilling to listen to him," Southwick told the outlet. "And so he had to take the next step to protect himself."
In a Change.org petition letter that asks the university to reverse its decision, Jayce's mother writes:
I want Jayce to be safe and to feel included in the campus community as he continues his education at George Fox and I want Jayce to be allowed to live in on-campus housing with his male friends. Jayce transitioned socially several years ago and has been under the care of a medical doctor, and on testosterone, for over a year to assist with his transition. He also recently applied for a legal gender change, which will be granted later this month, and I'm helping him change his gender marker on his driver's license and with the Social Security Administration.
The letter has since garnered nearly 4,000 signatures.
In a statement on its website, the university says, in part:
George Fox strives to be a Christ-centered community and our residential facilities are single gender because of our theological commitments. The student's request to switch from female-only on-campus housing to male-only on-campus housing is one that many institutions would struggle with.

While the university did not grant his request to live on campus with males, the student was not denied on-campus housing. He was offered the option of an on-campus single apartment with a commitment from Student Life to ensuring he stayed socially connected to the community.
The school also addressed the discrimination complaint.
"The university has researched the student's attorney's legal claims and believes they are without merit, especially given the religious nature of the university," the statement reads. "The university has made many efforts to provide support and accommodation for the student and remains committed to his academic, physical, emotional and spiritual welfare."