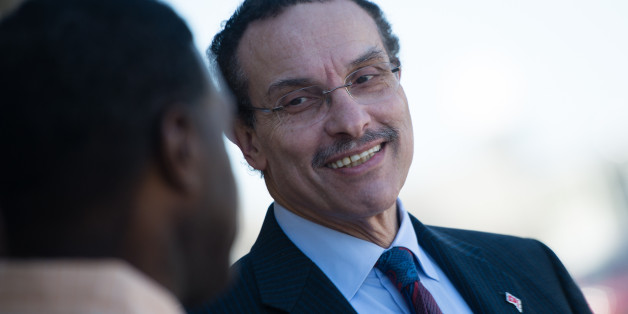 WASHINGTON -- During a hearing on Tuesday, Attorney General Eric Holder defended federal prosecutors' decision to allege weeks before the District of Columbia's Democratic primary that D.C. Mayor Vince Gray knew about a "shadow campaign" funded by business executive Jeffrey E. Thompson.
Rep. Cedric Richmond (D-La.) asked Holder about the allegation during a House Judiciary Committee hearing.
"To have your name tied into a federal investigation three weeks before your election and to say that it leads towards you I think affects the electoral process," Richmond said. "I think we are on a very slippery slope when we start leaking information right before election time because we are influencing the election process."
Prosecutors alleged for the first time at a hearing in March that Gray knew in detail about an illegal fundraising effort by Thompson that helped him win the 2010 mayoral race. Thompson has pleaded guilty to conspiracy for spearheading that fundraising.
Holder responded by saying that the allegation "was not a leak," but rather "a formal filing about where a case was." He added that the Justice Department would have been accused of wrongdoing if it did not disclose that Thompson told prosecutors that Gray was aware of the campaign finance scheme.
"If you look at it in reverse, if the Justice Department had put it under seal and waited until after the election and then revealed the information, we would have been charged with withholding information that would have been relevant to the election," Holder said.
"So what we do is simply bring cases when they are ready to go, and sometimes it is awkward, but it is the best way to do these things irrespective of what the fallout is going to be," he added.
Gray was defeated by D.C. Councilmember Muriel Bowser in the Democratic mayoral primary earlier this month. Five of Gray's 2010 campaign workers have pleaded guilty to felonies in connection with use of a slush fund to boost get-out-the-vote efforts.
Holder, a D.C. resident who previously served as U.S. attorney for the District of Columbia, said in 2010 that he voted for Gray over incumbent Mayor Adrian Fenty.
BEFORE YOU GO
PHOTO GALLERY
Mayors Of America's Largest Cities