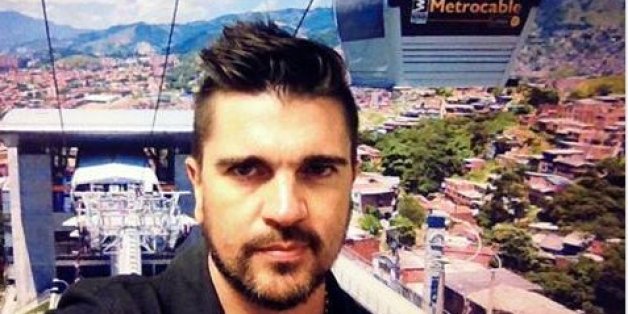 Juanes is no stranger to using music as an emotional outlet -- but while the singer now writes lyrics of love and peace, his musical roots grew out of the violence and terror in his native Colombia.
Over a decade after the release of his first solo album, the star has managed to not only reach international success with his music but sow the seeds for a brighter future in his homeland via his Mi Sangre Foundation and other humanitarian efforts.
It's no surprise that when the World Urban Forum VII was held in his birth city, Medellín, the singer and his organization were present.
Juanes, 41, arrived in the forum on Monday alongside young participants of Mi Sangre Foundation's "Puedo Cambiar El Mundo" (I Can Change The World) program, according to the Puerto Rican daily El Nuevo Día.

The group, much like the foundation, focused on generating ideas that would help bring peace to Colombia. Particular attention was placed on the host city of Medellín, which beat out New York City and Tel Aviv to be crowned the Innovative City of the Year in the Citi Global Competition last year.
Shedding its dark and violent past as the epicenter of Pablo Escobar's drug empire, the city has made impressive strides in urban development that have garnered recent praise and attention worldwide.
At the WUF7, the Colombian star spoke about growing up in a city during its darkest periods.
"At 15 years of age, I had to live the most tumultuous Medellín in history. A very difficult Medellín: filled with bombs, murders, kidnappings," Juanes said at the World Youth Assembly, El Nuevo Día reports. "There, I lost a lot of friends and family members."
Amid the turmoil in Medellín and Colombia at the time, Juanes formed his rock band Ekhymosis.
"It was the first exercise in which I would sit and think about the city, we were filled with questions, doubts, rage of what was going in Medellín and how we could cure ourselves from what we were living," Juanes said. "Music was the lifesaver [in a city] without opportunities."
The Colombian singer's appearance at the World Urban Forum comes just weeks after the release of his sixth studio album, "Loco de Amor." The highly-praised record was chosen by People magazine as one of the top ten albums of 2014 "so far."
BEFORE YOU GO
PHOTO GALLERY
20 Things You Didn't Know About Juanes