A Long Island nursing home is trading mashed peas for strip tease and forcing it on residents, a lawsuit claims.
The son of 85-year-old Bernice Youngblood was horrified when he found a photo of a scantily clad male stripper grinding on his mother as she stuffed a dollar bill in his briefs, according to the civil suit filed last month. Youngblood's family lawyered up after uncovering the photo, and is seeking punitive damages and criminal charges against East Neck Nursing Center in West Babylon.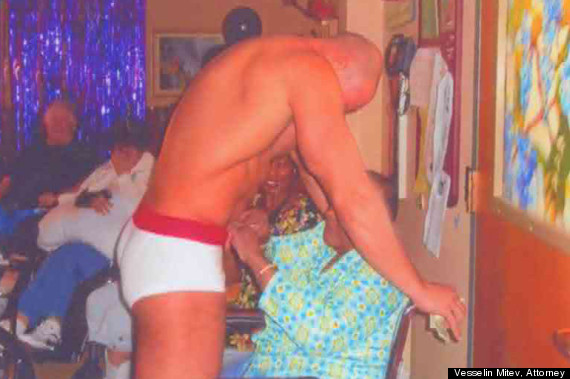 "[Youngblood] suffers from dementia and Alzheimer's ... this is abuse and an extreme emotional disturbance," one of the family's lawyers, Vesselin Mitev, told The Huffington Post.
"There's no way she could ward off this huge, muscular stripper that's forcing himself and his private parts on her," he added.
Youngblood's son Franklin claims that he visited his mom in January and found the photo. She said she had no idea what it was. The lawsuit claims that nursing home staffers not only took the photo in question, but used some of Youngblood's money -- which was supposed to be locked away for her commissary bills -- to pay for the burly bros.
When her son confronted a nurse, the staffer allegedly "lunged" at him and tried to take the photo. The staffer later told family members that the strippers were hired as an "entertainment event" and in "good faith," according to the suit. Mitev told The Huffington Post that he has evidence proving that the strip show happened on more than one occasion.
He said he wants the case "in front of a jury ASAP," and that he's working to pursue criminal charges on behalf of the family. He said he's serving a civil summons to the nursing home today.
"Bernice Youngblood, while sometimes lucid, lacks the mental and physical capacity to competently ... give informed consent or otherwise make any decisions about her personal state," the suit claims.
Nursing home representatives didn't return calls for comment.