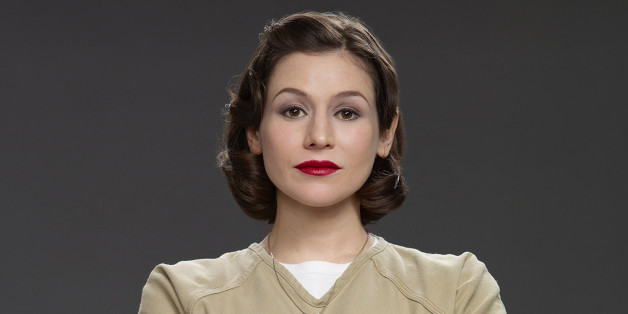 As the first season of "Orange Is the New Black" proved, inmates can sneak pretty much anything they want into prison.
Before Pornstache screwed everything up, Red could get a whole variety of items smuggled in through the prison kitchen for her fellow ladies. Need some drugs? You better be on good terms with Red.
When it comes down to that one very important item you need to help you get by in prison, Yael Stone, who plays Morello on the Netflix series, knows exactly what she'd sneak past the prison guards. "A vibrator!" Stone said at the Point Foundation Honors in New York City Monday night (April 7). Some women are fine with a screwdriver, while others just need more.
Stone and her "Orange" co-star Uzo Aduba, better known as "Crazy Eyes," made an appearance on the red carpet Monday night for the annual gala, which recognizes leaders of the LGBT community. The two were super secretive about the upcoming second season of "OITNB," but teased that there will be many shocking moments.
"I gasped more," Stone said about what will happen in Season 2, and we're not surprised since last season left fans with a major cliffhanger. "Definitely," Aduba added. "There are big gasp-able moments, you're like 'What the -- whatever expletive you want to put there.'"
The cast is definitely keeping their mouths shut about Season 2, but that's only getting us more excited.
The full second season of "Orange Is the New Black" premieres on Netflix on June 6.
BEFORE YOU GO
PHOTO GALLERY
"Orange Is The New Black"