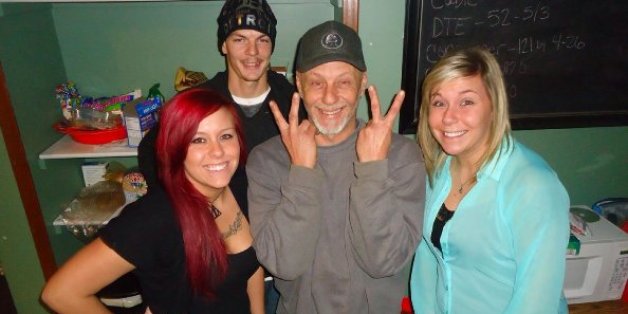 Donations have poured in for a man who was seriously injured after he was beaten by a mob in Detroit.
Steve Utash, a father and grandfather, was driving on the east side of the city when he hit a 10-year-old boy with his truck Wednesday, according to the Associated Press. When he got out to check on the child he hit, Utash was beaten by several bystanders.
According to the Detroit Free Press, Utash, 54, was a tree-trimmer and he drove the same street where he was attacked most days for more than a decade.
"He always helped everyone in need," his son Joe Utash told the paper. "They said he was saying, 'Sorry, sorry.' Why would you do that to him? He stopped. He tried to help."
The child was treated for a leg injury, according to the Associated Press. Fox reports Utash, who lives in a nearby suburb, remains in a medically-induced coma as of Tuesday morning.
But in the Utash familiy's time of struggle, an online request to to help fund his medical bills has prompted friends and strangers to donate thousands. As of Tuesday morning, the GoFundMe campaign had collected more than $133,000 from more than 3,000 people in four days -- far more than the stated goal of $50,000.
"We are grateful beyond words to each and every person who has said a prayer or donated money for our dad," wrote Utash's daughter, Mandi Emerick, on the campaign page. In her first post to the campaign, she said they were trying to raise money for medical bills for Utash because he does not have insurance.
Utash's situation may have been more dire if not for Deborah Hughes, a retired nurse who stepped in when she saw the mob attacking him. According to the Detroit News, she ran to the scene to intervene, saying "Please don't hit him anymore."
"Everybody cleared the way and gave me room to work on him. Nobody cussed me; they didn't attack me. They just let me do what I needed to do," she told the paper. "I massaged (Utash's) neck, and got his circulation going. He woke up and started swinging and kicking. By this time, the EMS came, and me and the EMS driver tied him down and put him in the ambulance."
But despite one woman's heroic act, the brutal beating has led Detroiters and community leaders to question how it could have happened.
"This senseless vigilante style attack is not the essence of who we are as Detroiters and will not be tolerated," Detroit Mayor Mike Duggan and City Council President Brenda Jones said in a statement Friday.
Four individuals have been arrested over the last several days in connection with Utash's beating, and Detroit police continue to investigate. On Monday, officials said they haven't ruled out the possibility of a hate crime.
BEFORE YOU GO
PHOTO GALLERY
The Most Heartwarming Thank You Notes To The Police